IBM is exploring a sale of its Watson Health business, according to The Wall Street Journal. The tech titan's chief executive wants to streamline the company and become more competitive in cloud computing. IBM Watson Health is the company's healthcare service division. It uses artificial intelligence to help hospitals, drug makers, and insurance companies, among others.
Last year, IBM announced that the company would separate the unit that manages clients' IT infrastructure and comprises nearly a quarter of its sales and workforce. With the restructuring, IBM wanted to accelerate focus on rapidly growing business areas like enterprise cloud solutions and AI.
How IBM's Streamlining Would Impact Its Operations
Accelerating cloud computing business 
"We are redefining the future of IBM and where we will put our focus moving forward," Chief Executive Arvind Krishna said. He also told The Wall Street Journal that IBM has seen major growth in client numbers and large deals in cloud computing. It indicates the tech giant's potential to be more competitive in cloud computing, he added.
The move to sell Watson Health comes after the appointment in 2020 of Arvind Krishna as IBM's chief executive. He had run the company's cloud and cognitive-software division before succeeding longtime CEO Ginni Rometty.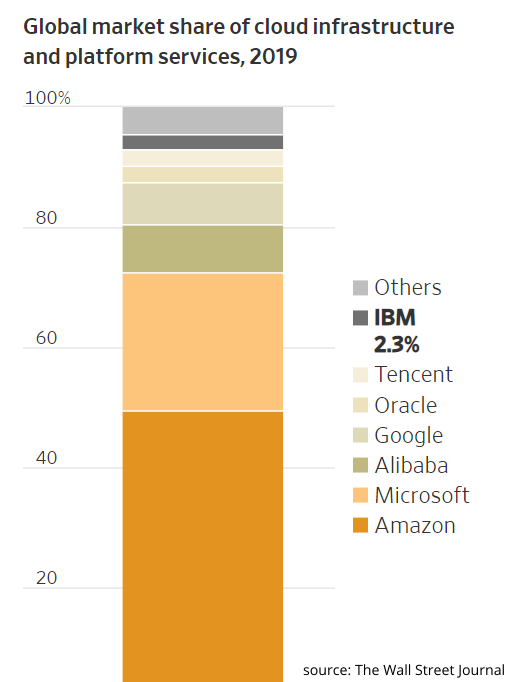 Analysts say IBM has been left behind as its cloud computing rivals Amazon and Microsoft report staggering profits. The companies have grown valuations more than 10 times higher. Amazon is likely to further expand its cloud plans after Andy Jassy takes over as the Chief executive. Jeff Bezos recently announced that he would be stepping down as Amazon CEO. IBM said that it's more focused than ever on hybrid-cloud solutions while leaving.
Unprofitable IBM Watson Health 
The Watson Health business has roughly $1 billion in annual revenue and isn't currently profitable, according to a WSJ report. The Brands include Merger Healthcare and Truven Health Analytics. These brands provide services like mammograms and MRIs, patient communication assistance, and healthcare data analytics.
IBM has bet big on Watson Health over the recent years. It tried to capitalize on the growing demands for health tech solutions worldwide. The company is exploring alternatives for the business division that could include Watson's sale to a private equity firm or an industry peer, or merger. It's not clear yet as to what amount of business the sale might generate, if and when it happens.
Spinoff as a repositioning strategy 
When IBM announced in October last year about its plan to spin off the services unit, investors welcomed the news. The company's shares rose following the announcement. The move also marked one of the biggest shifts in the company's history.
IBM was once synonymous with personal computers after it launched the IBM PC in the 1980s. The company sold its PC operations to China's Lenovo Group in 2005 following intense competition from Dell Technologies. In 2014, IBM also sold its unprofitable semiconductor business to GlobalFoundries.
None of these transactions, however, was as big as the spinoff of its IT services unit in 2020. IT services operations were crucial to the company in the 1990s under former CEO Lou Gerstner. It fostered IBM's transformation from a computing hardware pioneer to an IT services leader. But the IT division has been struggling to make profits.
Shedding legacy business 
In a time when more and more companies are adopting cloud solutions, getting rid of a non-performing business is a wise bet, said an analyst at Boston-based Nuclear Research. IBM has been comparatively slower in coping with the rapidly evolving cloud computing arena. Now that the company is doubling down on the cloud, the movie seems to be in the right direction, according to analysts.