Technology has impacted all spheres of our life. It has a critical role in our everyday routine and different business operations. As a result, the demand for software products has reached to next level. However, it is still not feasible for every company to have an in-house tech team. That's where IT staff augmentation comes to the picture.
As flexibility is the most in-demand requirement of the top businesses today, it is not surprising that different models are available to collaborate with outsourced partners. In this blog, we explore the most popular tech-partnership models that growth-focused companies are using today. By the end of this post, you will have a deeper understanding of the differences between IT staff augmentation and managed services—and benefits that make the former more preferable.
If you ask us: "Which is a better model?" we would say the one that fulfills your business requirements. Neither of these models is a universal solution that will suit everyone. Both of them have their uniqueness, pros, and cons. That is why before making any investment, we recommend you go through this blog as a correctly selected business model is the first step to success.
How Does the IT Staff Augmentation Model Work?
IT staff augmentation services help a company scale up (or, at times, scale down) its tech capabilities as per current needs. Rather than putting efforts into hiring permanent IT personnel, staff augmentation allows you to work temporarily with specialists.
The team of staff augmentation companies gives you access to a pool of the best tech talent in the industry as soon as a need arises. Contrary to the popular wisdom that staff augmentation is perfect for SMEs, tech giants like Spotify, Google, and Disney, too, rely substantially on staff augmentation services. Both startups and well-established companies can leverage IT staff augmentation to boost overall productivity.
Top Benefits of Staff Augmentation Services
From exceptional flexibility to staggering cost savings, IT staff augmentation services could help you in divergent ways. Here's how most companies benefit from customized staff augmentation.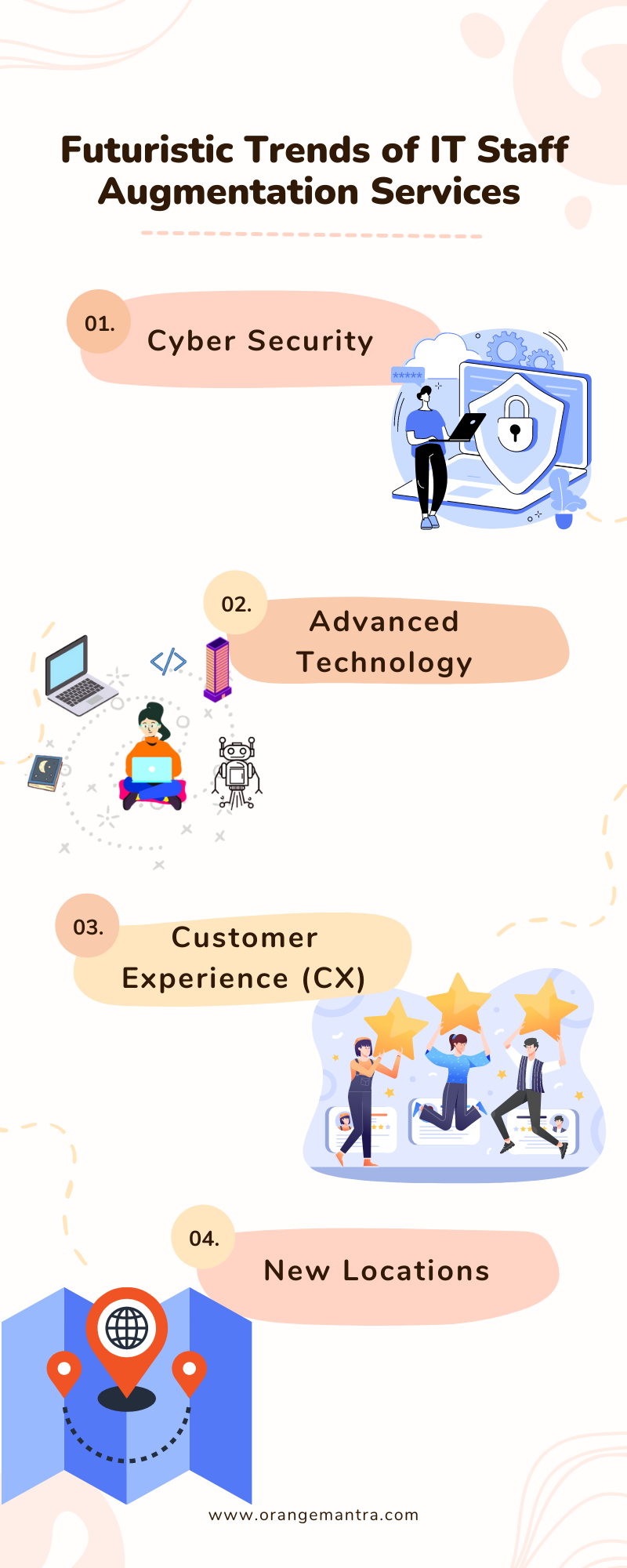 Flexibility
With this model, you can change the size of your team seamlessly. When a considerable workload is present, and your in-house developers can't deal with them, you can add new talents. At the same time, once your team is expanded, it doesn't mean using the same size forever. You can reduce the number and organize their work to avoid over-staffing.
Productivity
Outsourcing companies have a team of talents. It means that it is easy to find professionals who will have exactly those skills and expertise that are relevant to your project. In addition, these experts will work dedicate on your tasks which will ultimately help you achieve the desired results within the set deadline.
Cost & Time Efficiency
It is much easier and cost-efficient to expand your in-house team with external experts provided by one vendor than to hire your developers. In addition, there isn't any extra pressure on your HR team, and you do not need to think about onboarding and other management processes.
When Should You Look for IT Staff Augmentation Service?
You already have a development team and now need to enrich new talents.
You have a limited budget and do not want to extend your in-house staff.
Your project needs some particular skills.
You require additional resources for the short-term period.
Your project requirements are changing, and you require flexibility.
How Does the Managed IT Services Model Work?
The managed services also use the capacities of external talent to create your projects. But here, you hire a complete team of specialists (developers, designers, business analysts, QA engineers, project managers) having the required knowledge and expertise.
Small businesses prefer this model as they do not have their own IT departments. A managed IT services provider will help your tech infrastructure and meet your needs. With the availability of cloud platforms, all software-related services can be performed remotely. This is one of the major factors that boost the popularity of this approach to establishing cooperation with IT professionals.
Key Benefits of the Managed Service
Reduction in Costs
From a financial point, it is perfect for small businesses to work with an external team of tech experts. Instead of investing money into building their respective IT department.
Talented Pool of Experts 
Without spending too much time on the hiring work, you can avail yourself services of professionals who will have the proper qualifications to offer the services you need.
Less Overhead 
When working with your internal team, only you have to manage the processes and other resources. But when you invest in managed services, they will monitor all the required processes. And you can focus more on your crucial business tasks.
When Should You Consider Managed IT Services?
You do not have your in-house development team
You want to outsource the complete project.
Your project is a long-term one.
You are just starting to build a startup and have to start from scratch.
Futuristic Trends of IT Staff Augmentation Services
In the post-pandemic era, IT outsourcing is growing at an exponential rate. Some of the trends we see in IT staff augmentation services are:
Cybersecurity
As demand for remote work increases, cybersecurity attacks become a key concern. The demand for cybersecurity experts is obvious, with every organization needing tools to shield their systems from hackers.
Advanced Technology
Technologies including cloud computing, AI, ML, Big Data, etc., are being extensively used to streamline business workflows. There will be a huge demand for experts in this area.
Customer Experience (CX)
Organizations have started improving CX on a serious note as it translates directly to sales in the current business market. There are several opportunities in the CX field as businesses of all scales are focusing on customer experience.
New Locations
As Staff Augmentation Services India becomes popular, competition is growing. Vendors from all regions are offering staff augmentation services and challenging conventional markets.
Staff Augmentation vs. Managed Services
Staff augmentation and managed services are two different staffing models. While both are outsourcing strategies, they are very different from each other. Let's discuss their differences.
In staff augmentation, a company hires experts with relevant skill set through a provider and they work in-house. While in managed services, the project is outsourced to an external team, and specific deliverable is expected from them.
The service provider takes care of administrative aspects for staff augmentation. The hiring company can select the candidates and manage them. In managed services, the hiring company can't choose the resources or manage them.
The hiring company can control the staff augmented resources and can manage them like their in-house team. But for managed services, the hiring company has no control and cannot access work.
If opting for managed services, you don't need any resources to manage the outsourced team. They work independently and make all decisions by themselves. With staff augmentation services, you are hiring resources and are solely responsible to manage them.
IT Staff Augmentation or Managed Services – What's Best for You?
Both methods save you from spending time and resources needed for recruiting the experts needed to build your products and reach company's goals. But many companies appreciate the flexibility and control of IT staff augmentation over managed services. Since IT outsourcing employ most talented team of developers, programmers, and coders, you may find more success in IT outsourcing than hiring in-house staff.
Conclusion
If this blog post makes you think that your Staff Augmentation lowers operational costs and increase overall revenues, then you are completely right. Also, if you are looking on onboard a development agency and understand the process, you can simply reach out to us. OrangeMantra offers elite services and a track record of satisfied clients, we promise to deliver best services. With our experienced resources, we are committed to completing your projects before time with the best delivery outcomes.
Frequently Asked Questions
What is Staff Augmentation?
Staff Augmentation is the process of hiring external IT professionals for a company's particular project. It helps enterprises to hire on-demand IT experts from a reliable company to avail much-needed assistance.
What is the difference between Staff Augmentation and Managed IT services?
Staff Augmentation refers to the process of hiring IT experts for a particular project. While managed IT services are availed for an entire outsourcing project.
How to hire a cost-effective development team?
If you are planning to avail of IT Augmentation staffing services, then you can get in touch with us. We are a full-stack development company offering end-to-end digital transformation solutions to deliver excellent technical benefits to clients.