While traditional eCommerce helped businesses to sell products, headless eCommerce solutions help them offer a personalized customer experience as well. 
Amit, one of our eCommerce business clients observed, "I have been running an online sports goods store for over 7 years. But from the last few years I have been noticing a change in customer's buying journey. Today's customers are seeking much beyond the convenience of buying products online and having them delivered at their doorsteps. Moreover, the outbreak of the COVID-19 pandemic has completely transformed the way how customers are interacting and engaging with my eCommerce store. I think they are looking for the same shopping experience as they get in physical stores along with personalized recommendations.
Like Amit, 
Are you also struggling to address the new needs and expectations of 

your 

customers?

 

Do you want to enhance your UI/UX for your customers?

 

Are you interested in learning more about headless commerce?

 
If yes, then this article is meant for you. This article covers the importance and benefits of the latest trend called Headless Ecommerce Solutions.
As an eCommerce store owner, you need to keep pace with the changing customer touchpoints and experiences. However, this is nothing less than a challenge. It takes a lot of research, effort, and cups of coffee! And, with the onset of the pandemic, it has become even more difficult. 
Creating new and enhanced customer experiences in the traditional eCommerce business model may need updating the frontend and backend systems. This can turn even small projects into big burdens. 
Luckily for us, with its agility and flexibility, Headless eCommerce have made significant headway in offering a befitting solution for business owners like Amit. 
An Introduction to Headless Commerce 
In simple words, headless commerce separates or decouples the frontend presentation layer and backend of an eCommerce application. The architecture of headless commerce allows online merchants to craft solutions according to their needs and goals. It also helps them to enhance the customer experience.  
Headless eCommerce solutions empower merchants with robust commerce capabilities like product information management, shopping cart, and useful tools like Mulesoft and Heroku irrespective of the customer entry point. Furthermore, headless eCommerce solutions can easily integrate into any customer experience with the help of APIs. 
The presence of these useful resources enables eCommerce business owners to build innovative business strategies and provide new functionality and experiences that boost user engagement and fulfill their expectations.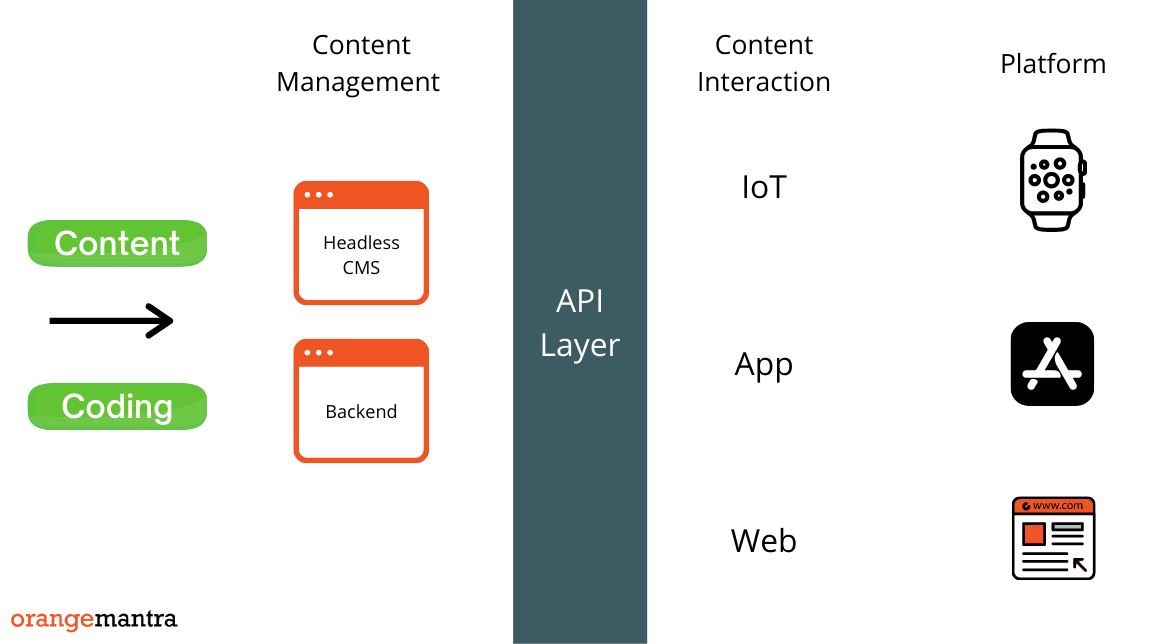 Key Benefits of Headless Ecommerce Solutions
Some organizations are reluctant to adopt new technologies due to steep learning curves. Using a contemporary, easy-to-use eCommerce platform along with the simplicity and flexibility of headless commerce resolves this problem easily. It's because your development team can access and update the frontend of eCommerce applications without using any advanced technical skills. 
Set of Useful Merchant Tools

 
Headless commerce offers the perfect set of merchant tools to build a customized and seamless customer experience. Further, it uses APIs to ensure brand-consistent and coordinated experiences across multiple channels that are driven by various eCommerce services such as promotions, product information, inventory, and more. 
Enhanced Omnichannel Sales Experience

 
Headless commerce allows store developers to create a frontend for a new digital sales channel whenever they need to. Envisioning the advancements in smart kiosks, highly interactive digital signage, and other types of customer-centric IoT, the ability to integrate new digital channels into the complete eCommerce experience can be very powerful and fruitful.  
Personalized Customer Experience

 
As said earlier, customers these days want personalized customer experiences that meet their needs and expectations. With headless eCommerce solutions, companies can optimize frontend sales to meet customer preferences and tastes. If you want to stand out from the crowd, you should personalize the initial online sales presentation experience. This approach involves integrating features like custom shopping preferences, personalized recommendations, and promotions based on the purchase history of customers. Offering personalized shopping experiences not only strengthens the bond between the customer and company but also increases the customer retention rate in the long term. 
Since changes to the frontend presentation layer are made in an agile way, this saves a lot of time spend on user interfaces changes for developers. Furthermore, using headless templates and IT partner solutions available, developers can easily build eCommerce applications with a few clicks and light coding. 
Headless commerce allows businesses to release new frontend experiences in a very short time. Thus, they can quickly respond to a new market trend with lower investments in backend development. 
An eCommerce store can reduce the bounce rate or shopping cart abandonment rate by creating excitement about its product or service offerings. The main objective of headless commerce is to provide the developers with an ability to handle the personalization, flexibility, and creativity so that they can create excitement in different ways, for example, offering personalized promotions, creating interactive and engaging customer experiences that result in discounts – such as completing a game or quiz to receive discount offers – and valuable recommendations. This excitement leads to higher conversion rates across all sales channels.  
Why Invest in Headless Ecommerce Development?
Headless eCommerce solutions are designed keeping in mind that not all developers are good designers and vice versa. These solutions provide APIs and the perfect tools that allow developers to create brand-consistent and coordinated experiences across several digital channels depending on one data view. On the other hand, creative designers can focus more on optimizing the UI/UX to improve customer engagement, customer retention, and conversion rates. 
The agility and flexibility of the headless commerce platform empowers developers to develop quickly using code, tools, APIs, and third-party integrations. If you want to stay ahead in the market competition by offering compelling and personalized customer experiences, then you should consider investing in headless eCommerce development.  
Being leaders in digital transformation, we specialize in headless eCommerce development and help our global clients to maximize their profits and customer base by leveraging robust headless eCommerce solutions. 
FAQs
Q.1. What is headless commerce? 
Ans. Headless commerce is the separation or decoupling of the frontend presentation layer from the backend eCommerce system that handles all eCommerce functionalities. 
Q.2. What is a headless approach? 
Ans. A headless approach involves using various technologies for the frontend and backend of your eCommerce application to make sure that you are increasing the use of content while using the best eCommerce platform on the backend. 
Q.3. How does headless commerce work? 
Ans. Headless commerce works by decoupling the frontend presentation layer of the eCommerce platform. API connection and robustness are crucial for ensuring data orchestration across the decoupled systems. Headless commerce is also an integral part of composable commerce. 
Have More Questions? You May Ask Our Experts Right Away!