Ecommerce is booming like never before! And this has led to disruptions in the Successful eCommerce website development space as well. While the industry has been growing steadily for years, the year 2020 has simply accelerated it. As more and more customers shift their spending to digital channels, global eCommerce sales are anticipated to reach $5.5 trillion in 2022, according to Shopify. Therefore, it has become crucial for businesses to build sales-driving eCommerce websites. Ecommerce website development is a complex process and demands a lot of time, effort, and budget. To perfect your eCommerce development journey map, you need to create an effective plan for a successful eCommerce website development.
And therefore, to help you design and develop your dream store, we have discussed the complete roadmap for hassle-free eCommerce store development. Let's get started!
10 Ecommerce Website Development Tips to Help You Sell More
Successful eCommerce website development is a complex process that demands a lot of research, time, resources, and effort. A lack of extensive research and the right guidance from experts can lead to various roadblocks in your eCommerce development journey.
Must Read: Some serious mistakes to be avoided while designing an eCommerce portal.
Below are some of the effective tips to follow when building an eCommerce website for your business.
1. Finding the Right Digital Identity for Your Brand is the Key
Thousands of websites are selling similar products and services, and aggressively competing for customers' attention. So, how would you stand out from the crowd?
Paying attention to minute details is extremely important here. For example, if two eCommerce stores are selling similar products, the domain name can be a major point of difference. One website could be www.florist.com and another could be www.florists.store.
Which one do you think is an eCommerce store for sure?
So you see how a simple domain extension like .store can differentiate you from your competitors and create a unique identity for your brand. A niche-specific domain extension such as .store can immediately establish that you're an online store that's selling a particular product. Moreover, it offers you an opportunity to promote and market your brand uniquely.
2. Choose the Right Ecommerce Business Model
As an eCommerce entrepreneur, you're most likely to fall in any one of the following eCommerce business models
B2B: Business to Business Ecommerce

B2C: Business to Consumer Ecommerce

C2B: Consumer to Business Ecommerce

C2C Ecommerce

Government/Public Administration Ecommerce
Other types of eCommerce business revenue models include:
Private Labeling and Manufacturing

White Labeling

Drop-shipping

Wholesaling and Warehousing

Subscription
Each model comes with its own set of benefits and challenges. Many eCommerce brands operate in these categories simultaneously. To choose an effective business plan, you must first identify the products you will sell, whether it is physical or digital products or services. What is the price of the products that you're selling? Are you selling a single product or a range of products? Who is your target audience? What are your customers' expectations? What is the market potential? And, so on.
So, before you hire eCommerce developers for your project, make sure you choose the best eCommerce business model. By asking the right questions, you can better decide which eCommerce business model is right for you.
You can even approach our eCommerce consultants for the right guidance and the right business strategies.
Also Read: How eCommerce web development powers disruptive aggregator models
Why choose hybrid eCommerce over conventional platforms
3. Make Sure Your Storefront Design Matches Your Product
Every website should have an aesthetically appealing design and easy navigation. However, if you own an eCommerce website, it's even more crucial that your storefront's look and feel match the product you're selling.
For instance, if you're selling kids' apparel, your storefront should ideally have vibrant colors, attractive animations, fun images, playful fonts, etc. to reflect your brand personality.
4. Display Your Products Appropriately
A physical store allows customers to see, touch, and try out products and consult with experts to better understand the products. However, this is not possible with an eCommerce website. Therefore, you must ensure that the customers obtain the necessary information to get an idea of the product and make informed purchase decisions. Therefore, you need to showcase your products properly.
Here's how you can do it:
Use high-quality, clear, and large-sized product images.

Use images that show the product from various angles to help customers properly examine the product.

Make sure the sizes and colors of the images actually depict the real product.
Other than products, you must highlight the top product features including:
How it can be used?

How to take care of it?

Who can use it?

Its warranty period
For example, if you're selling a t-shirt, your product information should include the type of material, size, washing instructions, brand name, and information if you're selling multiple brands. You can also add a size chart because sizes are likely to vary across various brands. By using images of models wearing the t-shirts, you can give a better picture of the product to your customers and encourage them to buy. Sometimes certain products are not eligible for returns; therefore, make sure to clearly include that information as well.
5. Provide a Seamless Checkout Process
A lengthy and complex checkout process can lead to higher cart abandonment rates in your store. The process of checkout must be simple, crystal clear, and quick so that the customers may not find difficulty in completing the process of their purchase.
Ideally, your checkout process should complete within three steps.
Step 1 – Basic personal information which includes name, contact number, and email address

Step 2 – Shipping address

Step 3: Payment details
You can also allow your customers to create an account on your website. This will help you gain useful information about them, track their purchases, customize communication, and personalize product recommendations.
However, this should be made optional. Many customers, especially first-timers, hesitate to give out too much personal information. Forcing them to do so can lead to higher cart abandonment rates.
6. Offer Multiple Payment Options
Different customers prefer to use different methods of payment. While many may be comfortable using credit cards, others may want to pay through an eWallet or COD. They may be reluctant to disclose their card details on the internet or they may want to get or see the physical product before paying.
Therefore, you must provide multiple payment options to cater to all types of customers and increase revenue. You can approach one of the professional eCommerce development companies for payment integration services.
7. Build a Highly Secure Ecommerce Website
As an eCommerce website owner, you must keep website security as your top priority. Since an Successful eCommerce website handles sensitive personal information and card details of customers, any compromise of such information can tarnish your brand reputation.
Every website that collects, stores, and processes the personal information of customers must be secured with a Secure Sockets Layer (SSL) certificate. The SSL provides a secure channel over which sensitive data is transferred. It will also assure users that their personal information is safe and protected on your website.
Moreover, if your website URL starts with HTTP in place of HTTPS (HyperText Transfer Protocol Secure), it clearly indicates that your website is not secure. This may prevent a customer from using or purchasing from your website.
Also, protect the website from malware attacks and phishing. Your eCommerce website must protect the systems and clients' data.
8. Make Yourself Easily Accessible to Your Customers
Unlike physical stores, customers shopping online can't access a salesperson or a specialist to address their concerns or queries. Therefore, you must assure them that you're always there to help them throughout their buying journey.
Other than sending regular updates about their order status, you must also provide contact information for your customers so that they can speak to the customer care team that can promptly address their concerns.
Create a "Contact Us" page on your website that includes clear information and different ways in which people can contact you including phone number, email address, and contact us form. Also, don't forget to integrate social media platforms because many people approach social networking channels to contact businesses and raise their queries.
You can also hire eCommerce developers who can implement built-in live chat support to address customers' queries instantly.
9. Harness the Power of Customer Reviews
69% of online customers seek more customer reviews from eCommerce websites, while 77% say that they make purchases after reading product reviews, (according to a BigCommerce study). Hence, featuring positive reviews about your products or customer services on your homepage and product pages can be beneficial for you. It will help you gain the trust of your potential customers and help them in making their purchase decisions.
Also, encourage your customers to write reviews by sending them follow-up emails after they make purchases. Thank them for shopping from your website and let them know that you value their feedback about their shopping experience with you.
10. Implement a Result-oriented SEO Strategy
If you're involved in eCommerce website development, you realize that it is a time-consuming and complex process. When you build an eCommerce website, you need to create content and upload every product individually. To get your eCommerce website noticed by your prospects, you need to make sure that your site is optimized for the search engines. By using a robust content management system and SEO services offered by one of the top eCommerce development companies. The professionals will take care of all the ranking factors of your website and increase your business reach.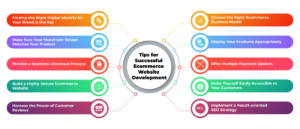 Other Considerations for Successful Ecommerce Website Development
Here are a few more points to keep in mind when developing your eCommerce store.
Determine Your Business Goals
It is significant to set achievable and measurable goals. The business focus must be realistic like aiming for a certain increase in sales, acquiring new customers, and so on.
Your Ecommerce and Business Strategies Must Be Aligned
Your eCommerce strategy must align with your business strategy considering the corporate system and an IT strategy, i.e., every aspect of the investment is considered.
Build Result-focused Strategies
If there are any conflicts in the operation, it is recommended to think about the goals again. One should be clear to see whether the strategies increase the sales or just improve the margins.
Consider the Hidden Costs
The hidden costs must not be overlooked as they may unknowingly burn the fingers of the investor, with less time for the realization rendering business loss.
The total cost of ownership must be considered which includes software, hardware, services, maintenance, support, upgrades, administration, marketing, and so forth.
Consider Your Shipping Charges
The inclusion of shipping charges for long distances, a realistic pricing policy, likely charges, and keeping the budget under managed conditions is necessary.
Choose Reliable Ecommerce Solutions
Consideration of reliable and scalable e-commerce solution from the initial stage so that it is adaptable as the business grows is essential to cut down investments later on.
Make it Easy to Update Content
The website must be simple. It should be easy to update content quickly as and when required. The business person must be able to do so independently without developers' help. The site must not be over-designed.
Create a Simple Yet Effective Web Design
It is recommended to use an effective and simple design. Ensure the optimal use of common colors, fonts, page layouts, and graphics.
Make Effective Use of Spaces
Space must be utilized efficiently and judiciously without any clutters. The effects that may add value to the users should alone be used on the website.
Increase the Page Loading Speed
Users always expect the pages to get loaded within seconds. As a business owner, you must take care that the site's download speed is always optimum. Accordingly, images, graphics, and others could be customized.
Ensure that Your Website Supports All Major Browsers
Your website must support multiple and the most common browsers such as Firefox, Chrome, Opera, Safari, and, etc.
Focus on the User Experience
Your website's user experience is of prime importance. It must have proper navigation, clear links, and relevant information, and follow the 'three-click' rule.
Implement an Effective Marketing Techniques
Implement appropriate online and offline marketing techniques as per the needs to attract the right and targeted customers.
Jaw-Dropping Ecommerce Stats to Consider
If you belong to the eCommerce industry, then here are some eye-opening eCommerce statistics for you to consider.
Global eCommerce sales will increase up to $6.07 trillion in 2024.
The most rapidly growing retail eCommerce markets within a couple of years are expected to be India and Indonesia.
95% of all retail purchases will be done online by 2040.
US retail eCommerce sales are likely to grow 16.1%, attaining $1.06 trillion in 2022.
Ecommerce will hold 20.4% of global retail sales by the end of 2022.
B2B eCommerce website sales will reach nearly $1.77 trillion in 2022.
Globally, 53% of online customers want to pay using their credit cards.
68% of customers will stop shopping with an eCommerce brand if they feel that it does not care about them.
44% of users become repeat customers if an eCommerce website offers a personalized online shopping experience.
68% of millennials seek a seamless and easy shopping journey with an eCommerce brand
Planning to Start Your Ecommerce Business Venture
It's no more a surprise that the eCommerce industry skyrocketed in the year 2020 as customers went online for their grocery, clothing, or home furnishing shopping. Moreover, the convenience of eCommerce accompanied by changing consumer behavior indicates a higher demand for successful eCommerce website development throughout the global pandemic.
We offer flexible engagement models to help you hire eCommerce developers as per your business requirements and budget. Our team of seasoned eCommerce developers is here to help you build and launch a sales-driving eCommerce store for your business.
Share your project requirements with us and we'll get back to you shortly with a reasonable quotation.
FAQs
Q.1. What is the best technology stack for eCommerce website development?
Ans. MEAN stack is one of the most widely used stacks for successful eCommerce website development. MEAN is abbreviation for (NoSQL DB), Express.js (backend web framework), Angular (front-end development framework), & Node.js (an open-source cross-platform server).
Q.2. Which is the best CMS for eCommerce development?
Ans. Following are the best Content Management Systems for eCommerce store development:
Shopify

Magento

WooCommerce

BigCommerce

OpenCart

PrestaShop

Pixpa