Customer expectation is something businesses need to focus on more than ever before. You must adopt digitization and innovation to rapidly changing market demands. While very few succeed in their endeavor to innovate, most businesses still are looking for proper means for innovation.
When a business needs to innovate, this doesn't mean a business should do something unique. Innovating is not about progressing in discontinued fashion. That's a big mistake many business owners commit. 
Every year, eCommerce consumes a substantial part of traditional commerce. It is expected that 75% of all purchases will be through e-commerce in the next few years. eCommerce is rapidly growing, and stats from multiple surveys speak a lot about it. Considering its popularity and productivity the merchants, regardless of their business type, are opting for eCommerce website development to conduct their business. ECommerce works perfectly for both B2B and B2C and incurs substantial profits.
What is a Hybrid eCommerce Solution?
A hybrid e-commerce solution is a strategy that empowers e-store admin to manage B2B and B2C businesses from a single dashboard rather than on two different platforms. The hybrid ECommerce platform owns the features that support you to build and manage your account for both B2B and B2C businesses, creating a seamless experience for both types of customers. It supports the scaling of business to a greater dimension without hassle.
Why Hybrid eCommerce Platforms?
Multi-user Interface
As both B2B and B2C vary in several scenarios including price, and purchase volume, a single UI does not work, which is the key reason behind people performing it separately. The hybrid e-commerce platform fixes this problem, by offering a multi-user interface for different types separately. The multi-user interface supports presenting the same product on two different business customization, making the process streamlined and error-free.
Single Store Inventory Management
In the conventional process, it is a challenge to maintain two different accounts on different platforms, requiring you to manage inventory for both platforms individually. The hybrid ECommerce platform is extremely handy in this aspect supporting you to manage a single inventory database and operate it simultaneously on both B2B and B2C. Thus, no more managing and making double entries in the database, the hybrid platform will automatically do this.
Multi-channel Capabilities
Hybrid eCommerce solutions not only help you manage multiple accounts but also bridge digital and physical. This enables a business to know their customer well by analyzing their behavior over different channels, both physical and digital stores. Knowing the customers' shopping behavior, interest allows you to serve them with personalized and relevant products. This results in leading long-lasting customer retention.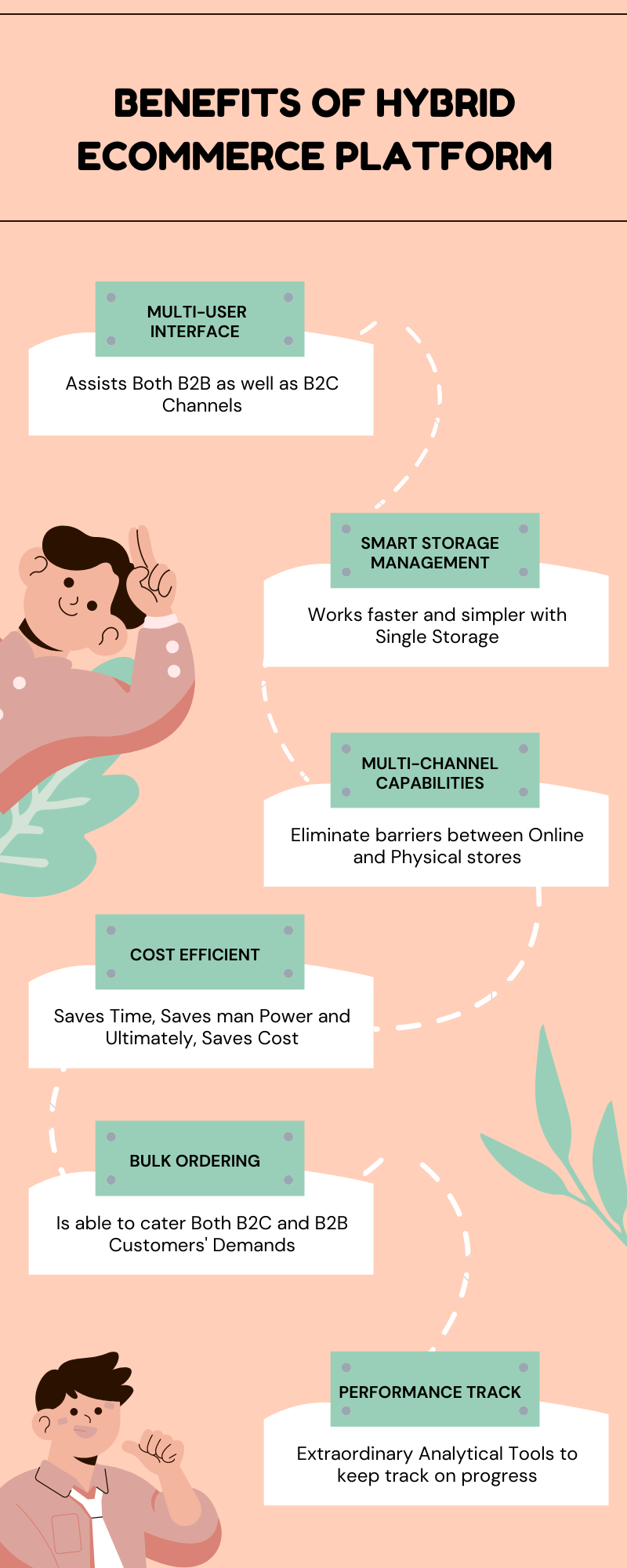 More Economical
One of the major reasons to opt for a hybrid e-commerce platform is its time management. By assisting you in investing the same effort and time to perform the same task on two different platforms, the hybrid approach saves a lot of time which is later utilized in some other productive work. Overall saves the cost of manpower.
With the hybrid approach, no need to manage two separate databases, build separate catalogs, personalize the content twice based on the business process, instead you can do all these things from a single place
Bulk Ordering
You are moving your B2B business online but if your customer needs to make orders or confirm product units over calls, emails, or messages then making it online has no relevance. Unlike B2C, B2B customers order the products in higher quantity and the hybrid e-commerce model helps to perform the same, allowing both the B2B and B2C customer to place their orders with ease, regardless of the products.
Scalability and Performance Track
Hybrid e-commerce platforms, need to handle B2B and B2C processes simultaneously, offer better scalability. It is capable to handle different customer demands as per the seasons and locations. Not only this, but it also supports you to track performance through the in-built analytics functionality, based on which you can design future business strategies.
Finding the Right Hybrid eCommerce Solution
Once the type of business you have decided whether- B2B, B2C, or the hybrid, you need to decide the best platform. There are different variables available to consider while selecting the most appropriate platform, especially for hybrid e-commerce.
Managing both B2B and B2C simultaneously needs a hybrid eCommerce platform. As both B2B and B2C have a distinct set of requirements, you need to deal with them efficiently. Make sure the platform you select can handle both B2B and B2C requirements. There are various platforms that facilitate hybrid commerce including Shopify Plus, Big Commerce, WooCommerce, and Magento, assisting you to start your hybrid journey.
Wrapping Up
The most important step that decides the success of an e-commerce store is the platform being selected. Though, several platforms facilitate hybrid commerce, choosing the best is a tedious task. At OrangeMantra, we rely on decades-long eCommerce development to build solutions deeply customized per your business needs. Our solutions have helped hundreds of businesses worldwide take their online business to the next level. Reach out to us to begin your hybrid eCommerce journey. Or if you are new to digital commerce, hire eCommerce developers and build a profitable online presence for your brand.
 Frequently Asked Questions
What is B2B and B2C commerce?
B2B stands for 'business to business' while B2C is 'business to consumer'. B2B e-commerce utilizes online platforms to sell products or services to other businesses. B2C e-commerce targets personal consumers.
What is hybrid ecommerce?
A hybrid e-commerce solution is an approach that empowers you to manage your B2B and B2C businesses from a single place instead of doing it separately on two different platforms.
What are the major benefits of e-commerce?
Faster buying process.
Store and product listing creation.
Cost reduction.
Affordable advertising and marketing.
Flexibility for customers.