Today the era has changed completely and the people are not much interested in going to local stores rather they prefer to shop online. This trend has made a revolutionary change in the online shopping industry and today every business organization has its own online store. It has become one of the biggest industries in terms of revenue and customers. This huge demand has also put pressure on eCommerce web development companies to use the latest technologies to build future-proof eCommerce web stores. Today online stores are the best way to increase the business of any organization in the commercial sector. So, if you select the best eCommerce development company then you can get a site as per your desire.
If you're unaware of the benefits of how an eCommerce development agency can give your small retail shop a huge global exposure, you're missing out on a lot of benefits! Stay tuned till the end of this blog to explore the benefits of eCommerce web development.
What is Ecommerce Web Development
With an estimated 12 million to 24 million eCommerce websites across the globe, eCommerce web development becomes crucial for retailers and merchants to stay ahead in the market competition.
But, what is eCommerce development, and how can you, as a retailer, launch a successful and sales-driving eCommerce website? We'll discuss everything in detail in this article. So let's begin!
Ecommerce web development is the process of planning, designing, developing, and launching an eCommerce website for customers to shop online. Since eCommerce web stores are very popular amongst customers, creating a user-friendly, easy to navigate, and highly secure eCommerce website can help you boost your sales conversions and business revenue.
Top Business Benefits of Ecommerce Web Development
As per the trend, there is no better way to create revenue and build a brand image than opting for eCommerce web portals. Therefore, business houses are opting for online stores because it helps them in many ways.
With online stores, there is no need for business organizations to have physical stores at every location. Here are some more reasons how eCommerce web development brings value to your business.
Creates the first impression of your business
Your website is probably the first point of interaction for customers with your brand. Effective eCommerce web development can give your potential customers a good impression of your brand which can encourage them to stay longer on your site.
Expands your business reach
They give easy chance to your business organization to increase your reach to customers who are not able to visit your physical store.
Marketing becomes very easy for your company and you get more loyal and repeated customers.
Helps improve SEO strategy
Ecommerce web development is essential for any SEO strategy. Factors like page speed, coding, responsiveness, site URLs, and hyperlinks – all can have an impact on your website's ranking on the search engine result pages.
Bring the convenience of shopping
They give the customer the convenience to buy their favorite products from any corner of the world with just a few clicks.
Helps you understand your customers
An eCommerce platform allows business owners to know about the interest of the customer and using this information it becomes easy for them to convince the buyers by providing offers on their preferred items.
Helps you stand out from the competition
Ecommerce website development is a great way to stay ahead in the completion. It can help you build a future-proof, updated, and high-quality website that will defeat your competitors and drive more leads and traffic to your site.
Ultimately, eCommerce website development is an effective tool that can help you accelerate your eCommerce business growth and success. An eCommerce development agency can help you build a robust website that will generate more traffic, and quality leads, as well as increase sales and business revenue.
Things to Consider for Successful Ecommerce Web Development
If you're thinking about how to make your eCommerce website more appealing and sales-driving, this section will answer this question. Below are some of the important things to consider during eCommerce website development:
An Intuitive and Responsive Design
By seeing the look and feel of a website, it takes only 5 seconds for a customer to decide whether to stay on the site or not. If you want your potential customers to stay longer on the website, you need to pay attention to enhancing your front-end development.
When you hire UI/UX designers for your website, they can help you reduce the bounce rate of your website and deliver exactly what your customers are actually looking for.
Minimalistic design is the key to attracting more users. Therefore, you should focus more on creating a simple yet intuitive design for a better user experience. Your site layout, navigation, graphics, CTAs, grids, and other design elements play a pivotal role in attracting and retaining customers to your site. Therefore, every element should be easy to use and look attractive and visually appealing.
Also, ask your eCommerce web developers to build on responsive website design. Your website should run perfectly on all platforms and devices. In today's online world, 60% of users prefer to purchase products or services through their smartphones; therefore, you must optimize your storefront for mobile users as well.
If you already have an eCommerce website, it's good to revamp your store design according to the latest trends from time to time. Keeping your website up to date with the latest eCommerce design trends and technologies can help you stand out and earn higher ROI.
A Design that Matches Your Brand
Before starting with eCommerce web development, make sure to know and understand your target users. Knowing your target audience will help you in planning your website design. Let's say, for example, that if you're selling kids' apparel and toys, then your website design should be bright, colorful, and full of attractive graphics. It should match your intention of selling kids' items.
Search Engine Optimization
If you want to increase the footfalls on your website and let customers know more about your business offerings, then you must focus on the online visibility of your website. Search engine optimization (SEO) is one of the most effective ways to attain a higher website ranking on major search engines like Google, Bing, etc.
You can either handle this on your own or hire SEO specialists from a renowned eCommerce development agency. Your website must be optimized with the right keywords and phrases. When properly done, SEO can definitely bring you the desired results.
It takes years to build reputation, trust, and credibility. But you can lose them all in seconds if your website is not secure. If you don't want your customers to mistrust your brand, you should hire eCommerce developers having experience and expertise in building highly secure eCommerce stores.
If your website is integrated with an online payment gateway or e-wallet, you must focus on security otherwise your site visitors will not trust your brand. Also, ask your eCommerce web developers to integrate an SSL certificate to encrypt your site information.
People are always in a hurry and that's why they prefer shopping online to avoid standing in long queues and waiting to make a payment. Therefore, you must focus on all aspects of your eCommerce and make attempts to make the overall shopping experience quick and easy.
Other than the traditional signup and login process, you must allow your customers to log in through their social media accounts.
Thus, customers can also share the products they like, feedback, and reviews on their social profiles. In addition to the login and registration process, you should also implement a guest checkout process. This is useful when customers want to check out without creating an account.
A website with a slow loading speed and performance is disliked by users as well as search engines. Therefore, you must make sure that your website is well-optimized according to the latest search engine guidelines. Most eCommerce web development companies offer this service as a part of their eCommerce development services.
A slowing loading website will increase your bounce rate which is not at all good for your business. When you hire eCommerce developers for website optimization, they will reduce the code, compress and optimize the images, fix broken links, improve performance, and do a lot more. They will follow the best eCommerce website optimization practices to improve the loading speed and performance of your site.
Effective Marketing Strategy
Ecommerce web development is beyond just building a website. It is also about how you showcase and market your site in front of your target users. Therefore, you must devise an effective marketing strategy to achieve the desired business outcomes. Look for an eCommerce development company that provides a dedicated marketing team that can help you strategize your marketing initiatives.
Focus on building a strong brand identity and reputation. You can leverage cutting-edge technologies like Artificial Intelligence and Big Data for comprehensive market analysis. Perform in-depth market research, study your rivalries, and keep an eye on what they are doing. Always try to offer something unique to your audience. With the help of an expert marketing team, you can establish a strong online presence for your website. They can implement proven digital marketing strategies like Pay-Per-Click (PPC) advertising, content marketing, email marketing, social media marketing, and more to boost your business's success.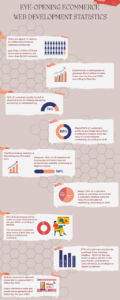 Looking for Professional Ecommerce Web Development Services
If you want to leverage the benefits of eCommerce web development, we are here to help you with end-to-end eCommerce development services. Whether it is a vendor-specific website or a multi-vendor online marketplace, we can build any type of eCommerce website within the shortest timeframe.
Our seasoned development team has years of experience in creating fully customized eCommerce websites that drive quality traffic and sales for our clients. We have a proven track record of building numerous successful eCommerce websites for our global clients.
We don't just want to speak about the amazing work we do, we really want to show you. If interested, you may take a look at our eCommerce success stories.
FAQs
1. What are the best platforms for eCommerce web development?
Here's a list of the best platforms for eCommerce website development:
Shopify
Magento Ecommerce
BigCommerce
WooCommerce
Prestashop
Squarespace
Wix
3DCart
Volusion
Quick eSelling
MyDukaan
2. What are things to consider when creating the best user experience?
To build an impressive user experience, you need to ensure:
You convey the value of your business, products, and services
You meet the needs of your online customers
Your website is simple and easy to navigate
Your website has a fast loading speed and performance
Your website design attracts and tempts customers to stay longer on your website
3. Is it good to code eCommerce websites manually or use a CMS?
Coding makes your website function as expected. You can choose whether to code your eCommerce website manually or leverage a robust content management system (CMS) like Magento, Drupal, BigCommerce, Prestashop, etc.
A CMS usually contains most of the coding and backend development elements, so you don't need to do much manual coding. However, if you prefer to code manually, you can use web development technologies like HTML, CSS, and JavaScript to build custom eCommerce websites.
4. What is the cost of eCommerce website development?
The cost of eCommerce website development may vary according to the type and size of the business. Other cost factors may include your customization needs, features, complexity, integrations, the development time, the geographical location of your eCommerce development company, etc. Contact us to get an estimate of your eCommerce website development.
Got More Questions? Feel Free to Ask Our Ecommerce Experts.