The eCommerce industry is extending and rising to a rapid extent and there is no sign of slowing down. Undoubtedly, the majority of shoppers prefer to buy products online due to the convenience and ease of picking and receiving items at the doorstep.
Although, it's kind of a seamless experience for customers to lay hands on a preferred choice of products online. But as an eCommerce business, you might be facing several issues at present. And these could be in terms of fluctuating product demands, fulfilling round-the-clock order requirements, not being able to extend the marketplace, and scaling up accordingly.
Well, one particular solution lies for all such eCommerce business problems is the seamless adoption of Cloud technology solutions. Specifically hosting your online retail platform on Cloud and managing a business from any demographic with no hassle at all.
Things you will know after reading this blog:
What Cloud adoption implies for your eCommerce business?
Benefits of adopting cloud hosting for eCommerce business
Why Public Cloud is better for online retail businesses?
How to get started with cloud service hosting for your enterprise?
Let's begin the useful discussion for your eCommerce enterprise.
What Cloud adoption implies for your eCommerce business?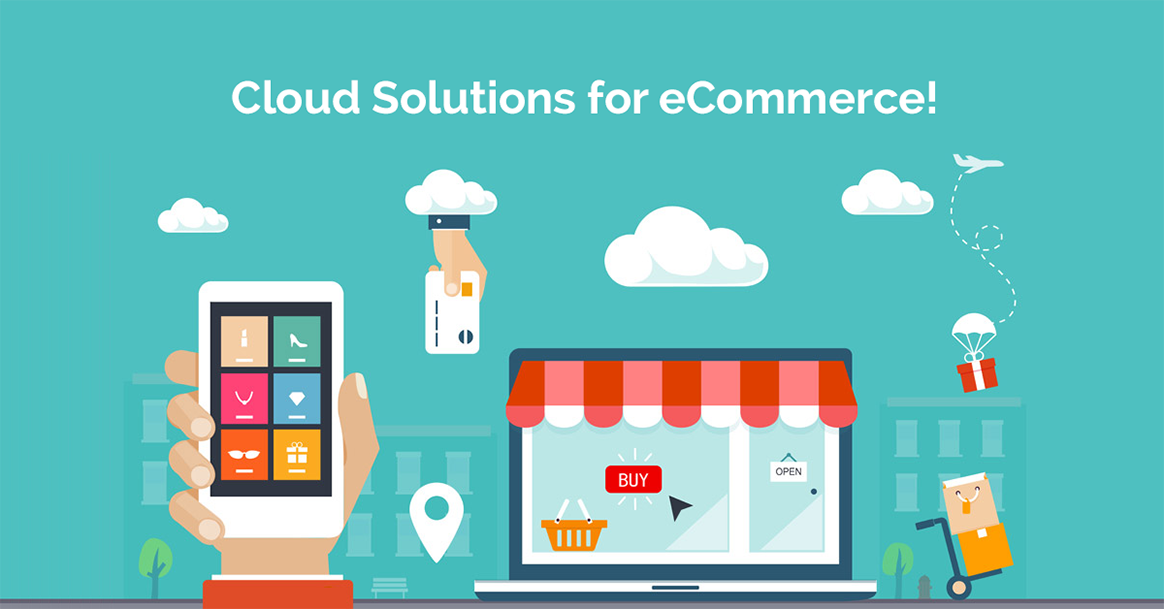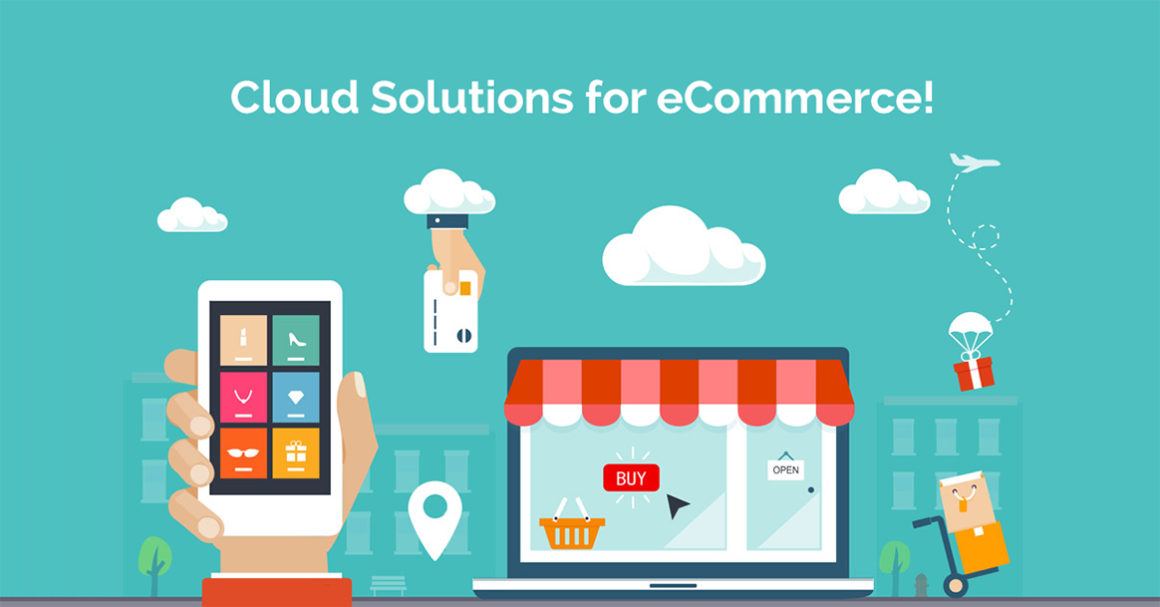 When it comes to adopting Cloud technology solutions for the eCommerce business, there are two ways of looking at the same. One is implementing Cloud hosting service and the second is Cloud monitoring. Let's look into both of these components.
· Cloud hosting for eCommerce: With cloud hosting means integrating all your business-specific databases, programs, applications, and other architecture on a virtual server. By relying on preferred Cloud hosting service providers, migrate your in-house infrastructure of data storage and apps towards a virtual server and no longer confined to one region only. Just because cloud servers are completely virtual, they are secure enough to protect your business data along with providing scalable flexibility. Moreover, with the successful implementation of Cloud hosting service, you need not spend a hefty amount of cash on in-house infrastructure & data centers. And allow the third-party solution provider to manage everything on your part at a minimal cost.
· Cloud monitoring for eCommerce: Cloud monitoring is the next best step after hosting your eCommerce server virtually and further monitoring and maintain in a hassle-free manner. As the name itself implies, cloud monitoring assistance helps your eCommerce business to ensure timely review, inspections, performance updates, and security of data centers. Additionally, cloud monitoring allows your organization to conduct regular audits to ensure complete security compliances and standards are followed in place.
Ensure three key functional benefits with cloud technology solutions
In connection with the above-mentioned two beneficial Cloud technology aspects for your eCommerce business. You should further look into different ways cloud adoption helps eCommerce businesses to function efficiently & effectively ahead.
Cloud computing enables the online retail business to meet hardware and software requirements at a low cost. The technology helps enterprises to rent a virtual server, data storage capacity, platform, software, and other applications on a Pay-as-you-go basis.
From the cost perspective, certainly cloud solutions are beneficial for eCommerce businesses to pay for the respective utilization of services. Moreover, there is no such requirement to maintain virtual servers, and databases, and ensure timely security. Everything will be done by the leading cloud service provider without incurring additional set of costs.
By adopting cloud computing solutions, mainly small to medium eCommerce companies can meet respective data storage requirements at a minimal cost.
Benefits of adopting cloud hosting for eCommerce business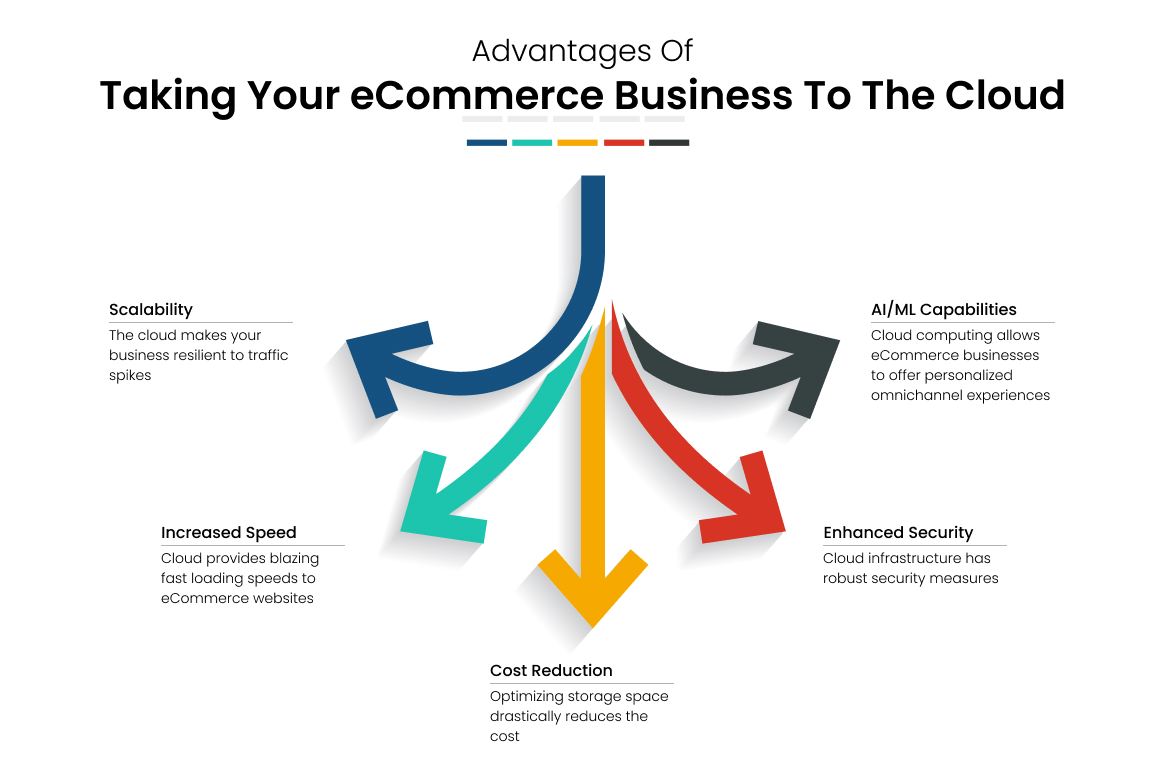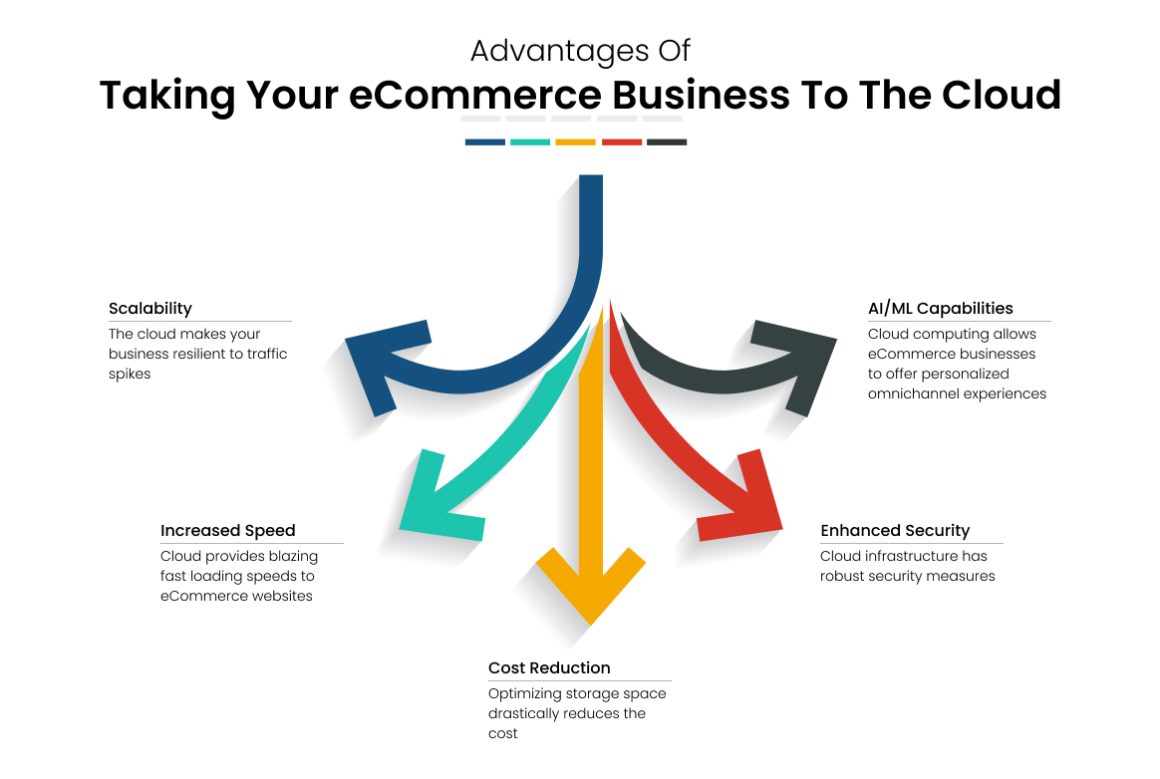 When it comes to scaling up operations, extending your customer base, safeguarding crucial data, and managing your eCommerce business from any location. One thing that prevails ahead of anything is the successful implementation of Cloud technology. It has become an essential part of eCommerce website development services for several companies to ensure round-the-clock operations from any particular location. Additionally, cloud computing offers you the following few advantages.
1. Remote access to eCommerce business
Relying on cloud-based hosting is certainly beneficial for your eCommerce business to access the business application, database, and information from any location. It offers easy accessibility to business platforms from any demographic along with simple access to platform information, tools, files, and more.
Simply to say, cloud hosting for eCommerce allows you to run your organization from anywhere, anytime, and with anyone best dispersed across multiple locations. Specifically during the current trend and need for remote working scenarios, cloud technology solutions enable you to run operations seamlessly and that too at a low cost.
2. Reduce operational cost to an optimum extent
From the cost perspective, nothing can outcast the importance of cloud solutions for eCommerce business. Unlike a traditional structure, you need not spend on in-house hardware infrastructure and external software costs when everything is easily accessible virtually at a minimal cost. With cloud computing services, reduce your business spending on IT infrastructure along with maintenance and security expenditures. On the contrary, cloud service providers help your eCommerce enterprise to ensure timely security updates and software upgradation without asking for an additional cost.
3. Improve business data security
No need to think anymore about eCommerce business information security with the successful implementation of cloud technology solutions. Cloud-based services are highly secure and fully protected by a team of experts and industry-level professionals. With this adoption, rest assured to best protect your business information, customer data, financial transactions, and other relevant information with ease.
Not only this, cloud hosting providers offer you the additional support of managing firewalls, updating antivirus, ensuring end-to-end encryption, and other security measures.
4. Seamless scalability options
One of the significant benefits of implementing cloud hosting and monitoring solution for online retail businesses is for scaling up the reach and operations. Almost every online retail store, including yours, wish to expand, create a multi-location enterprise, and serve customers extensively. In the traditional ecosystem, it incurs huge costs involved in the process of creating location-specific platforms. On the other side, cloud-based hosting allows you to extend the virtual data storage and server capacity to extend your reach in a hassle-free manner.
How to get started with cloud service hosting for your enterprise?
The requirement of cloud computing solutions is different for a different sets of eCommerce companies. Few organizations rely on Google Cloud Platform services, while some have complete trust factors toward AWS Cloud computing solutions. Despite the preference, the basic process to implement cloud technology in your eCommerce enterprise remains the same. And is based on the following few points.
1. Ideation Stage: The cloud technology implementation process starts with understanding the reason behind your eCommerce requirements. It all starts with identifying the reasons to adopt the cloud, how it helps your business, and how will it improve your eCommerce site performance.
2. Planning: After identifying the requirements, the next step lies in the process of finding an appropriate cloud solution. It could be in terms of PaaS (platform-as-a-service), SaaS (software-as-a-service), or IaaS (infrastructure-as-a-service). Here, a reliable eCommerce development company will help you adopt the ideal solution to ensure seamless business success ahead.
3. Adoption: As per the planning, you will finally adopt the required cloud solution meeting your enterprise-level requirements. In this step, you can start accessing the business application, data storage, server, and other software virtually. And start operating your online retail business from any preferred location and that too at any point in time.
4. Optimization: One-time implementation of a cloud solution is not enough to ensure long-term success ahead. It is relevant to keep optimizing the virtual operations by extending the storage, adding more security, and other altercations regularly. Moreover, this stage further involves the process of meeting security requirements and fixing issues at the service provider's end to ensure smooth operations ahead.
Concluding Thoughts
In a nutshell, cloud technology offers extended capabilities to digital businesses to expand, extend, scale up, and reduce operational costs. Especially, the eCommerce sector has the utmost flexibility to adopt cloud technology solutions and run omnipresent operations across locations with ease.
Here at OrangeMantra, hire eCommerce developers from us along with cloud experts to develop a fast, intuitive, and feature-rich eCommerce solution. Also, adopt the right set of technologies to stay innovative and competitive in the marketplace.
Frequently Asked Questions
1. Is cloud hosting good for eCommerce businesses?
Cloud technology solutions are beneficial for eCommerce businesses to run their operations round the clock from any destination and access the application with ease. The technology provides you with the required platform, storage, data center, infrastructure, and other virtual support at a minimal cost.
2. Which are the best cloud platforms to opt for?
The three key players in the realm of cloud technology solutions include Google Platform, AWS, and Microsoft Azure development services. Based on your business requirement, opt for any particular vendor and start managing your business operations digitally.
3. Is that possible to host the Magento eCommerce platform on the cloud?
Yes, with the help of reliable Magento support services, implement cloud technology to lower the operational cost and run the business seamlessly from any location you want.