The online shopping spree of Black Friday and Cyber Monday has just ended. These are two of the biggest shopping extravaganzas in the U.S. and several other western countries. This year Black Friday saw another record sales, hitting a total of $7.4 billion (Bloomberg). Spendings on Cyber Monday were even bigger: a record $9.4 billion – the highest in American online shopping history (Forbes).
This should not surprise us, though. We are increasingly accustomed to the growth of online shopping as a global sensation. Many of us have reports of Singles' Day sales in China breaking records in terms of revenue. In India, too, shopping events like Big Billion Day are becoming wildly popular.
The Role of E-commerce Apps
In all these online shopping festivities, mobile apps play the role of stimulators. In fact, the staggering growth of e-commerce is mostly driven by a growing number of smartphones worldwide ( infographics below present a clear picture of the steady growth). This has caused an increased global demand for Android application development for retailers.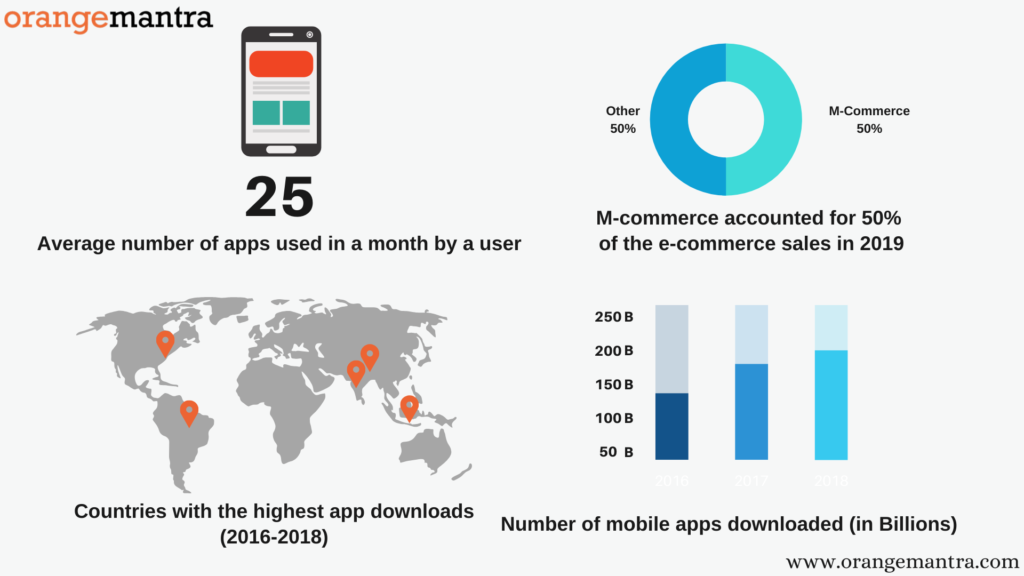 It brings us to e-commerce apps and why they are so important for your online business. More than ever, shoppers around the world are using mobile apps, rather than a PC, to buy & compare items online. If your business doesn't have a mobile app, you are missing a huge group of potential customers willing to buy things online.
The Impressive Rise of Mobile Apps
It's almost impossible to imagine modern life without a smartphone – and the apps it contains. It appears to be true worldwide. The total revenue from app store consumers reached $101 billion in 2018. It is forecast to hit $120 billion by the end of this year (Forbes). Overall, consumers downloaded a whopping 194 billion apps in 2018 alone.
Many factors are responsible for this mind-boggling growth of mobile apps. The role of mobile apps in changing the way we work, socialize and play has been a game-changer. Apps have virtually touched every aspect of our life, turning themselves into necessities of living. Android app developers have been careful about these trends and creating products accordingly.
The increasing affordability of smartphones is another important factor driving the growth of the app market – especially in developing countries. Government and private campaigns promoting digitization have also played an important role in this growth of mobile apps.
Users Prefer Apps Over Browsers, But Why?
To an end-user, mobile apps are much more convenient than browsers. The features and design of mobile apps give them several advantages.
Apps are more user-friendly: Mobile apps can leverage the hardware features of a smartphone, such as a camera, Bluetooth, and GPS. These make them more efficient and user-friendly. Using an e-commerce app, for example, is more convenient than browsing an e-commerce website.
Apps are dedicated to actions: We usually have a single app for doing a specific activity, such as booking a cab. Unlike browsers, they are designed to accomplish a specific set of tasks which makes them more appealing.
Some apps can be used offline: This feature differentiates apps apart from browsers in a significant way. Activities like news, entertainment, and learning are some of the major areas where apps are used offline.
Mobile Apps in E-commerce
E-commerce giants like Amazon and eBay had foreseen early that mobile apps would rule the online shopping world. Today, a growing number of businesses are joining the e-commerce movement. Considering the competition, having a mobile app for your online businesses is more important than ever.
Consumers' online shopping behavior has dramatically changed the way retailers used to sell products. The practice of visiting a physical store for shopping is on a sharp decline. Consumers are buying everything – from grocery to luxury goods – at the convenience of staying home. In most cases, they are buying all these using a smartphone. This practice of shopping via a mobile app is now popularly known as mobile commerce or m-commerce. The software development industry, has, therefore, put immense focus on e-commerce mobile app development.
How m-Commerce is Changing the Industry Dynamics
With the rise of mobile apps, the e-commerce industry has become a more level playing field. With mobile apps in place, small businesses and new enterprises can compete with established players in the industry. If you own a small or medium-sized business, earlier it would have been challenging to sell your products in the vast retail market. E-commerce and mobile apps have made it easier for businesses to reach out to a large group of potential customers.
Android Application Development for Retailers
The first step to launch your business in the M-commerce market is to develop an e-commerce mobile app. Starting with Shopping app development is a wise decision if you are just starting off in online retail. The best approach is to take an informed decision. Explore the mobile app development market and choose the right vendor. Make sure that the app is designed and developed according to your business needs and the kind of customer you plan to target.
Once you have got the mobile app, market it rigorously. Your marketing strategy should be realistic and comprehensive. Start with a focus on KPIs specific to the market you are targeting. These may include app store rating, number of downloads, number of active users, and app store optimization. Once you have got the mobile app, market it rigorously. Your marketing strategy should be realistic and comprehensive. Start with a focus on KPIs specific to the market you are targeting. These may include app store rating, number of downloads, number of active users, and app store optimization.
At OrangeMantra, we closely watch the shifting trends of the e-commerce industry. Being a trusted Android app development company, we always stay focused on delivering flawless e-commerce mobile apps. Hire mobile app developer from us to capitalize on the growing e-commerce market.
Overall, you cannot afford to ignore the importance of e-commerce mobile in an increasingly competitive market. Considering the popularity and efficiency of mobile, it would be an effective and wise decision to incorporate a mobile app into your business model. Find out a suitable e-commerce app vendor, tell them your requirements, and join the e-commerce movement. When it comes to e-commerce, it's never too late to start!