Recently eCommerce stores and digital shops have commuted the entire shopping scenario for customers worldwide. Some online businesses use various and prominent services to increase brand recognition.
Without a doubt, Shopify is a powerful tool for increasing your online presence and driving sales. The store's implementation and initialization are simple with Shopify. However, here are the most recent Shopify trends 2022 to keep up with technological advancements.
Latest Shopify trends to follow
Let's look at some Shopify trends to incorporate into your eCommerce store to boost brand value.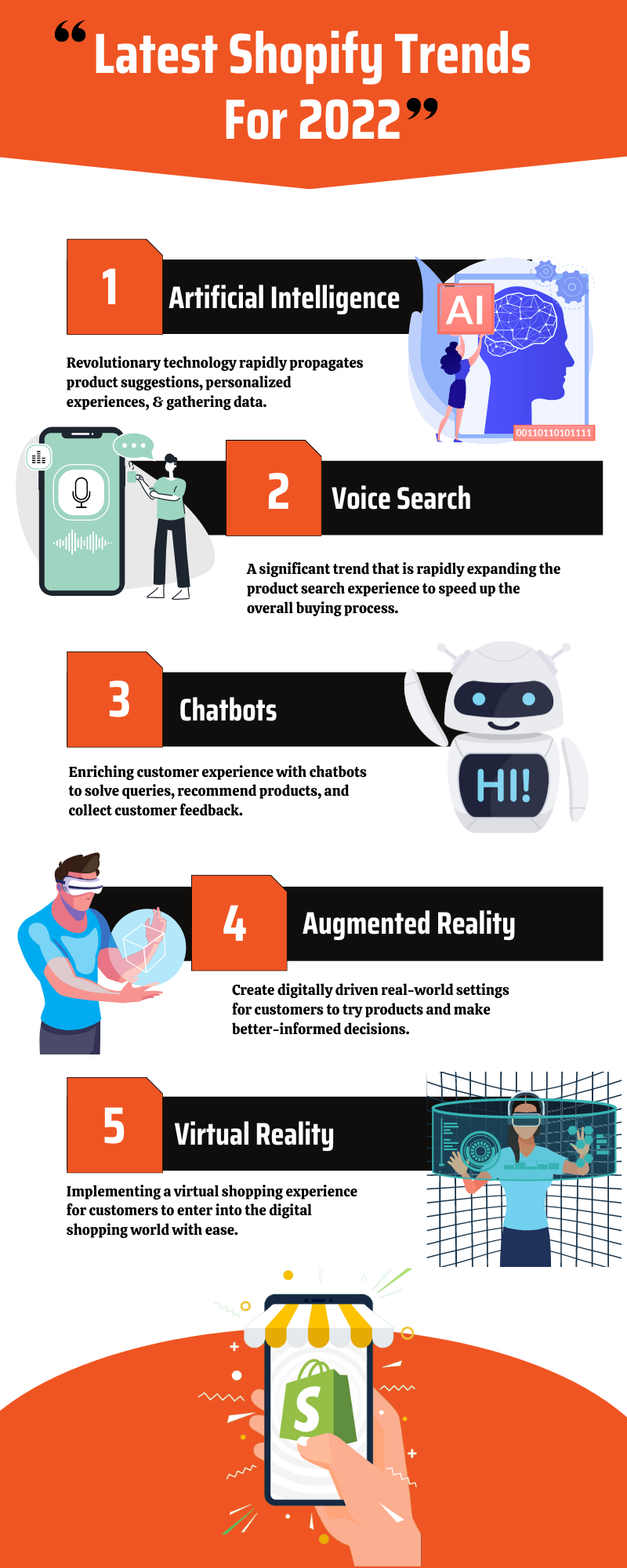 1. Artificial Intelligence(AI)
Though AI is not a new term to online business in any sense. However, artificial intelligence (AI) assistants such as Siri, Alexa, and Cortana have altered our networking experience. Artificial intelligence (AI) is rapidly propagating great speed. AI has its part in many industries, but it is of utmost benefit for eCommerce stores. Here are some examples of how AI can improve eCommerce:
* Product suggestions
One of the most concerning aspects of online shopping is not knowing what to buy. Amazon recommends products to users based on previous purchases using machine learning algorithms. It allows customers to discover new products/items that they might otherwise overlook.
* Personalization
Customers want shopping experiences that customize to their specific needs. As a result, personalization is becoming a more potent aspect of every Shopify development store. Look for ways to customize, whether dynamic advertising or specialist suggestions on your product pages based on previous purchases.
* Improved customer service
Creating a strong brand is more than just putting a company's logo on every page of its website. Companies can also define themselves through the user experiences they provide to their target audience.
Hire a Shopify developer who can assist in this regard by incorporating everything. From intelligent bots to live-chat tools in eCommerce stores to assist customers throughout the purchasing journey.
* Quirky designs 
Shopify includes several layouts, such as the F-layout and the single-column layout. However, odd and unusual templates now allow businesses to break the mold. Constituents such as infinite scrolls, animated images, and interdependent clips can be added easily. One might be considering the various outcomes of using unusual layouts.
Websites with strange structures can effectively approach more users, generate long-term engagement, increase conversion rates, and improve brand retention. Shopify development company and services can assist you in creating specific website layouts.
* Mobile commerce
The rapid expansion of mobile commerce is directly related to how users access the internet. Users have abandoned PCs as smartphones have become more accessible, and high-speed internet is no longer a premium infrastructure in many countries.
Because mCommerce allows for increased customer engagement, it also increases customer loyalty. With a mobile app, your company is always visible as an icon on your customers' mobile screens. Similarly, you can entice them to return to your Shopify development store using push notifications, loyalty rewards, and other methods.
 2. Chatbots
An eCommerce chatbot is an AI-powered Intelligent Virtual Assistant solution that online retailers can use to engage customers at all stages of their journey. A bot can let user stay updated about the online payment offers and benefits. Chatbots on eCommerce websites respond to frequently asked questions, collect customer feedback, and solve complex customer queries.
Hire a Shopify developer who can establish chatbots in your eCommerce store.
These intend to clear the clutter that a buyer may encounter while shopping. Various businesses are developing bots that can do almost anything, from ordering food to booking appointments. Bots help enterprises save money while improving customer service.
 3. Augmented Reality (AR)
AR is another Shopify trend also quickly gaining popularity among Shopify Store owners. AR allows users to view digital products in real-world settings. It is similar to virtual reality (VR), but no special equipment is required. It all depends on the camera on the user's phone. Interactive customer experiences can be created using Shopify development.
For example, you can add product information to images taken in your store. You could also go with 3D product models. Before making a purchase, eCommerce customers can preview products or experience services in their environment and on their own time using Augmented Reality. Using AR, your customers can preview products and are more likely to select the correct product the first time.
 4. Virtual Reality (VR)
VR is used increasingly in Shopify development stores/websites. Customers can use VR headsets to immerse themselves in an immersive environment from the comfort of their own home or office. Shopify owners can use this technology to allow their customers to try various products before purchasing them.
While the eCommerce market shows no signs of slowing, the Shopify trend drives convenience rather than how customers want their shopping experience to be. It presents eCommerce leaders with a challenge. You can do to make online shopping feel more like being inside a store.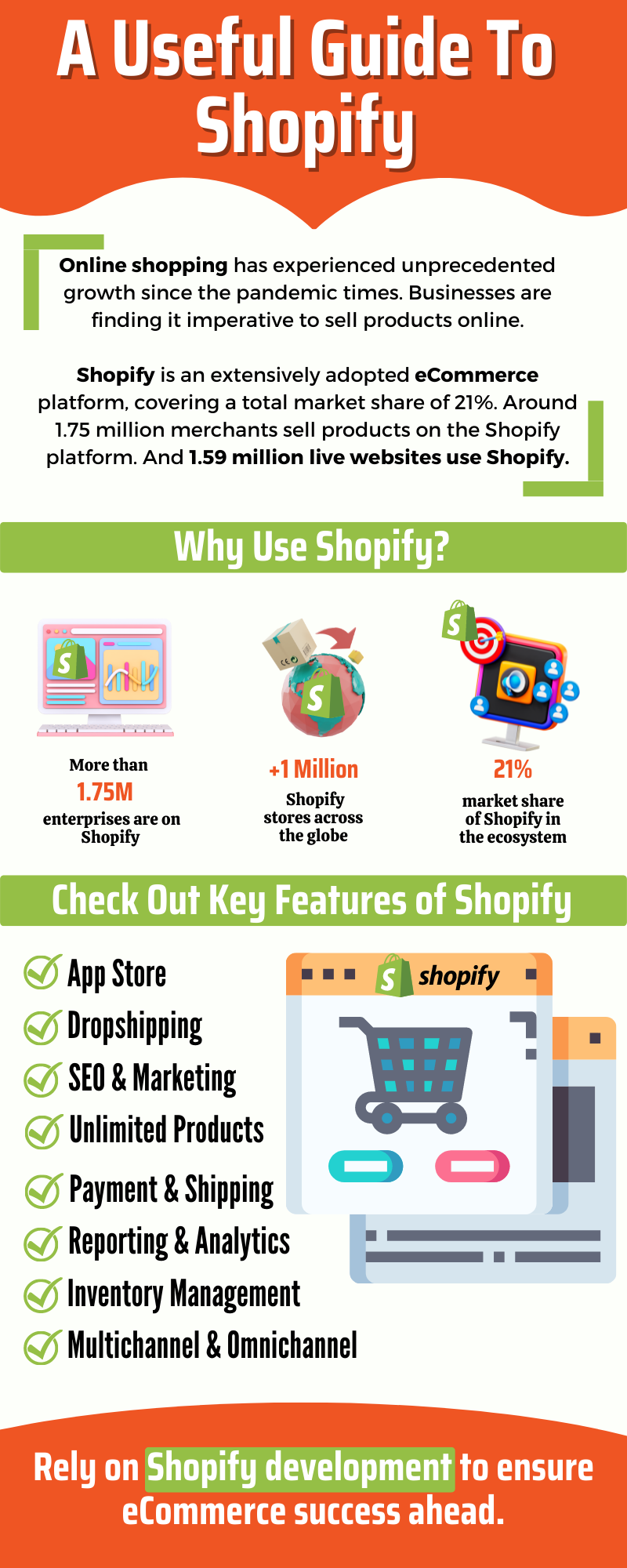 5. Voice Search
Every user benefits from the ability to search for anything using voice commands. Voice search is a significant trend that improves the user experience. Businesses today have recognized the value of incorporating advanced AI technology via voice searches. It enhances the user's experience by saving them time. As a result, the voice search feature will be one of the most admired Shopify trends in 2022.
Voice search is becoming increasingly popular. Users can speak and search for whatever they want rather than typing words on the keyboard. Voice search is now being integrated into eCommerce websites by owners. Alexa, for example, can assist you in searching for product prices or even placing an order.
 6. Customer Reviews
Customer reviews are critical in the creation of social proof. This marketing term means that the opinions of others influence us as consumers. When we see that other customers have purchased a product and are pleased with it, it validates our decision and increases our likelihood purchase an item.
Reviews can influence consumer decisions as well as strengthen a company's credibility. Customer trust gains through critiques. And they encourage people to interact with the company. Customer interaction leads to increased profits for businesses.
7. Community Expansion
The rise of NFTs and the changing nature of the web have compelled businesses to reconsider the value of communities. Today's businesses thrive as a result of consumer support and advocacy. As a result, developers must prepare to incorporate more community experiences into their websites. It could include creating customer forums or membership sign-up options.
Conclusion
All the technologies and Shopify trends mentioned above will continue to grow in the coming years and are here to stay. Each provides exceptional benefits while motivating you to implement them at every step. For more consideration, consult the Shopify development company for your projects by getting in touch with experts at OrangeMantra.
FAQ's
Is Shopify capable of drop shipping?
When it comes to e-commerce dropshipping, Shopify is the undisputed leader. You can enable the functionality of dropshipping by following simple steps. All you have to do is create an account on Shopify and find a drop-shipping website to add the products that you like to sell. After that set up your store and design to provide a customized outlook.
Does Shopify provide you with a website?
Shopify is a software service subscription that allows you to create a website and use their shopping cart solution to sell, ship, and manage your products. You can select a particular template to design, add products, and services, and start managing the business online.
How much does it cost to develop a Shopify Store?
The cost factor depends on your business level requirements in terms of adding specific functionality, design elements, and other such things. The actual cost will be discussed after understanding your need and business objective.