Our teams are working remotely to meet your tech requirements promptly – Contact us Today !
Conversational AI & advanced NLP to Improve Customer Service & Operations
Conversational AI empowers your businesses to interact with customers in a revolutionary way. Intelligent chatbots and a virtual assistant can also help you reshare day-to-day business operations. We leverage the innovative features of the bot development platform Rasa to build intelligent tech solutions.
At OrangeMantra, we have a team of chatbot developers, AI experts, and data scientists to build efficient AI-powered solutions for clients.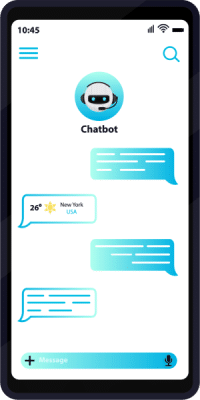 Key Features of the Rasa Framework
Rasa is the most evolved machine learning framework for developing text- and voice-based AI assistants.
Important Benefits of Developing a Chatbot/ Virtual Assistant
Be it enhancing customer service quality or improving operational efficiency, chatbots can go a long way to help your business.
Frequently Asked Questions
Rasa is an open-source machine learning framework for building AI assistants and chatbots. Rasa is based on the Python programming language. It's one of the most evolved frameworks for developing AI assistants.
The costs of building a conversational bot vary widely, depending on your requirements. Your industry and goals also matter. If you need a simple bot with basic features, costs are comparatively lower. OrangeMantra offers Rasa chatbot development at a competitive price.
There is no predefined development time for chatbots. It depends on what kind of conversational bot you want to build. Chatbots with less training data and basic capabilities take less time. Bots with higher volumes of training data take more time. OrangeMantra has a track record of developing bots within a shorter turnaround time.
Looking for efficient Rasa chatbot development services?
Contact Us
test