Our teams are working remotely to meet your tech requirements promptly – Contact us Today !
Our Travel App Development solutions will make your business tech-savvy and profitable
It's hard to imagine travel and tourism without software applications. Most people would plan, book, and navigate travel using software solutions of one kind or another. If you're not apt at using these tools and technologies, you're missing a huge opportunity in the travel business.
Digital technologies have reshaped the way people imagine and experience. Be searching for tourist destinations, looking for flight availability, or booking hotels, most people use a mobile app or a website. That's why our travel app development services are designed to cover every kind of need of your business. Whether you are a travel agent, a hotel owner, or an airline company, we have solutions for every business need.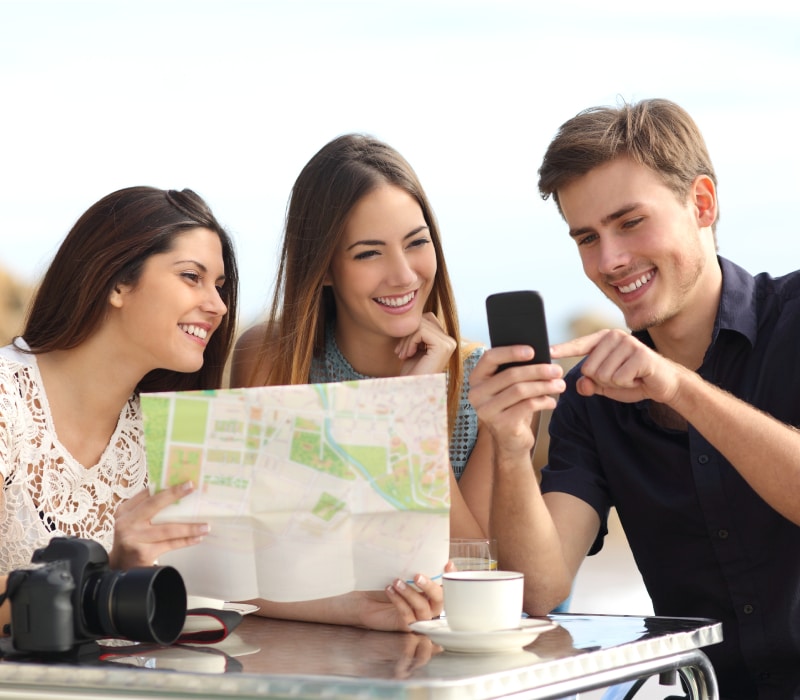 Key Benefits of Developing a Travel App
From making your business efficient in strengthening your brand image, travel apps bring a diverse array of benefits.
Provide customized experience
With a travel app in place, you can provide a unique experience to customers. Be it trip planning, hotel booking, or estimated travel budget, well-designed apps make things easier for consumers.
Monitor customer actions
Travel apps enable you to better understand customers. By knowing customer behavior and their needs, you can manage your offerings accordingly to improve business performance.
Streamline customer engagement
You can add automation features to the app that significantly reduces the need for a manual response. Customers love features like check availability, instant booking, save payment information, etc.
Improve Customer Support
Customers need support for many different reasons. It could be the app's functionality, payment, or anything related to travel. Travel apps make customer support more easily accessible.
Main Features of Our Travel Apps
Customers' expectations from a travel app are diverse, so are the features of our apps.

Travel guide & planner
Allow customers to plan and navigate their trips using a design-rich travel app.

GPS-based features
Enable functionalities like "restaurants near me" and other features based on real-time location.

Filtered search options
Users can use one or multiple filters for searching hotels, flights, etc. to make bookings easier.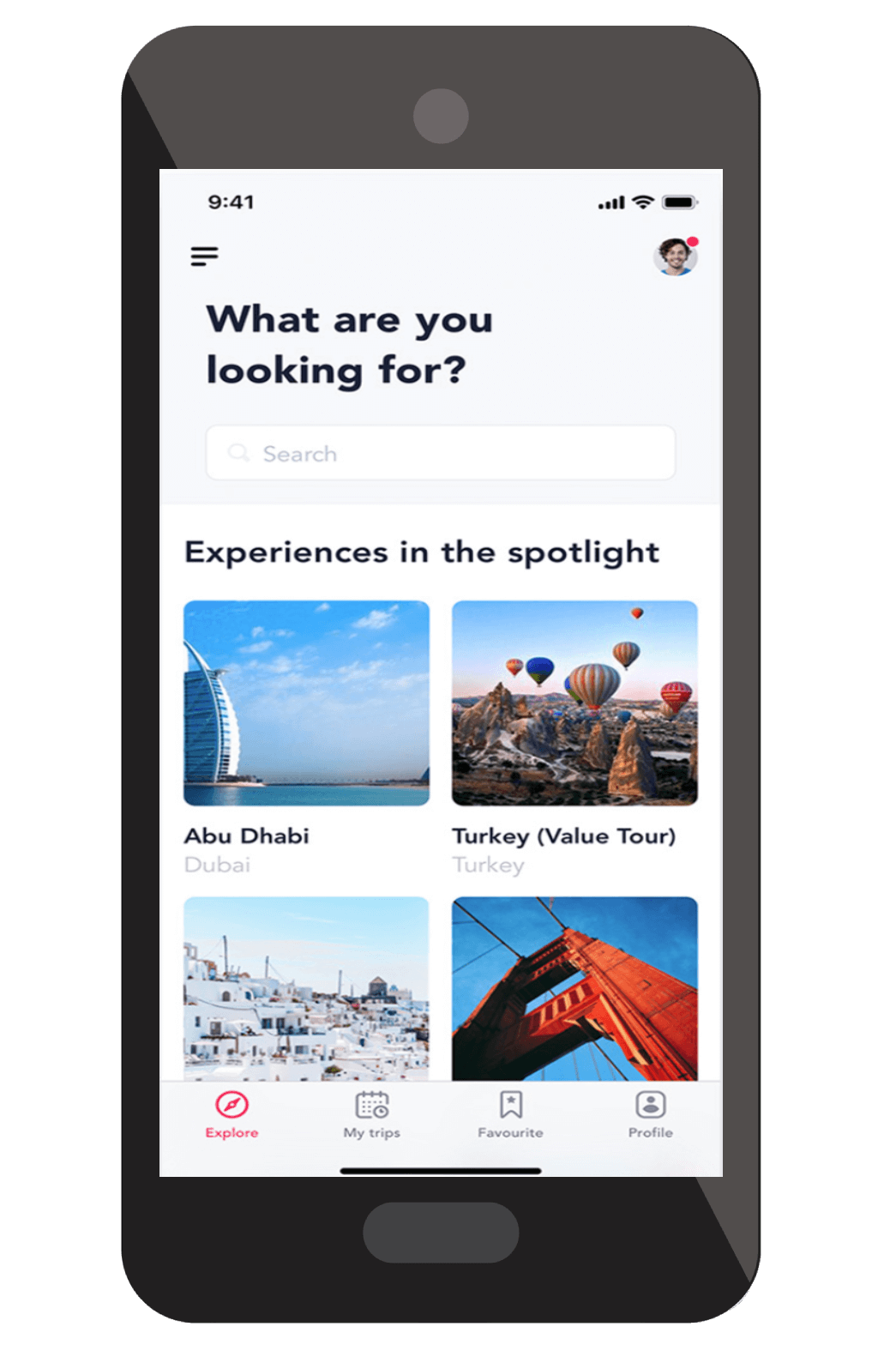 Secure payment processing
Let customers pay using their favorite digital wallet. The apps ensure robust security in payment processing.

Easy onboarding & profile creation
Offer customers a seamless onboarding experience while enabling them to easily create a user profile.

Customer Review
The apps feature in-built review functionality that enables the customer to rate hotels, restaurants, flight experience, etc.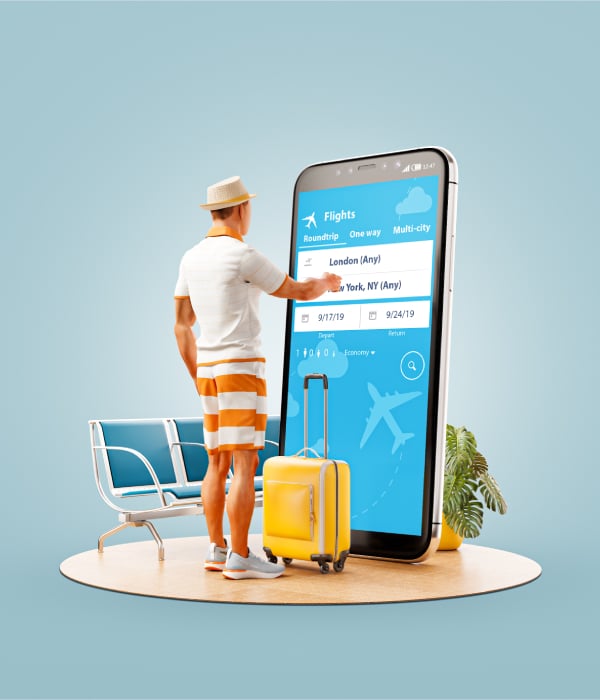 Travel App Development Offerings from OrangeMantra
Our award-winning app development team builds solutions that give you an immediate competitive edge. Loaded with user-oriented features, our travel apps are designed to make your business better.
1
Airline Ticket-Booking
Having built feature-rich apps for leading airlines, we know what kind of features suits your business. Our airline booking apps are highly customized according to individual needs.
2
Travel Planning
We build apps that enable customers to plan their domestic and international trips. The planning apps feature everything from flight availability to the best restaurants in a tourist destination.
3
Hotel Reservation
Focused on hospitality industry players, our hotel reservation apps offer users an immersive searching and booking experience. We incorporate features that help create customer loyalty.
4
Travel CRM Solutions
Seamlessly manage the customer relationship and automate key response activities with our CRM solutions. Use customer data and insights to improve services.
What Clients Say

We needed a travel app with capabilities for booking flights, hotels, and homestays. The OrangeMantra did a brilliant job. Customers are loving the app built by OrangeMantra.
A leading travel agent based in Mumbai

Our hotel chain didn't have a booking app. We contacted OrangeMantra after getting a recommendation from a friend. They developed an amazing app with great features.
Senior manager of a hospitality company
Frequently Asked Questions
A travel app provides a diverse range of features and functionalities to travelers. These range from searching for flights to booking hotels, and much more. Consumers can also create itineraries, access travel guides, and book flights and search restaurants. Ask your travel app development partner to incorporate all the features you need.
The costs of developing a travel app depend on your requirements. The app's features, design elements, etc. together decide the development cost. OrangeMantra builds feature-rich travel apps at a competitive price.
There's no predefined time for developing a travel app. It varies widely depending on the features of the app and its design elements. The best way to know an estimated time is to consult app development experts. We build design-rich travel apps with short development time.
test