We can't predict the future. But we can certainly leverage the top digital marketing trends that decide today's business outcomes. With the New Normal reshaping market dynamics, it's the perfect time to talk about what is next to come and how to adjust your marketing.
For business people like you, dynamically adjusting marketing tactics is crucial to sales. Trends change all the time. So must your tactics. On the other hand, it's challenging to identify trends that will change the digital marketing service landscape over the coming years. You must have long-term and medium-term marketing strategies.
What are the most critical digital marketing trends that will take you far ahead of your competitors?
That's what we'll cover today.
Top Digital Marketing Trends to Watch for in 2022
Content Marketing
Creating and sharing contents are the tried and tested content marketing strategy. Blog writing has become so popular and serving marketers from a very long time. Your blog is your collection of thought leadership, industry updates, and unique expertise showing audience about your services.
Focusing more on writing case studies is a crucial strategy of content marketing services which will rule in next few years. 37% of marketers revealed they will implement case studies in the marketing campaigns for the first time. Well-crafted case studies encourage your customers because they should invest in you. Your customer is your greatest asset, and their positive feedbacks are the fastest way to prove your business value. It's where customers inform your audience why they chose you ahead of others
Voice Search
Many marketing experts predicted voice search will be a popular digital marketing trend back in 2019. Since then, brands are considering it a powerful marketing strategy. And the best part, it's easier to implement than you might thing.
For years, marketers, were focusing on content marketing, optimizing blog posts to be at top position of SERPs. Optimizing the voice search is quite similar because search engines like Google still use written content to show results for the verbal queries.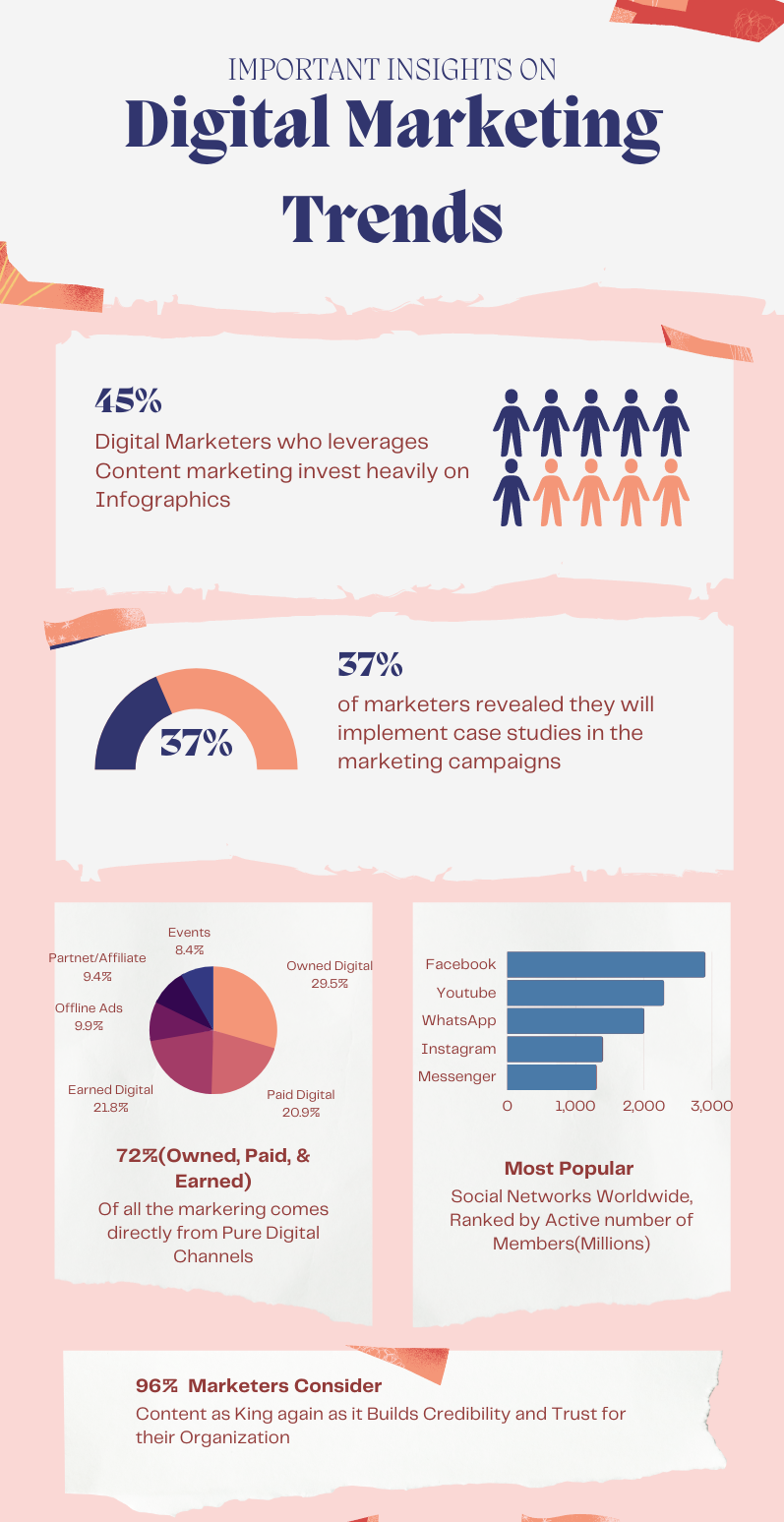 Search Engine Optimization (SEO)
Today, it is simply impossible for your target audience to reach your digital platform through an organic web search if you are not following a robust SEO strategy. Expert states "Organic SEO isn't optional work, but it is as important to your website like content, images, and navigation." With every business becoming digital, it is important to be on top with Search Engine Optimization services from professionals. They will help you build SEO strategy by understanding the SEO requirements, link building, and keyword research.
Finding the right set of keywords that are unique to your field is important when it comes to reach at the top in the search. 61% of marketers are focused to improve SEO of their client business to grow their online presence.
Customer Experience Personalization
Personalization will play a vital role in 2022. Rather than adding content that engage as many people as it can, building personalized advertising for your audience will generate more fruitful outcome. But it's not about the content you need to put correctly. Make sure the audience receives ads at the right time and place. It is crucial for the engagement in the competitive landscape.
Taking the time to know about your audience platforms, and how they use them, requires creation of personalized messaging. This will guarantee your message reaches the relevant audience in the way that is most tempting to them. Overall, it results into increased customer loyalty. Tweaking your marketing efforts includes various aspects like locations, and cultural associations, even if you're marketing the same product.
Social Media Engagement
With over 5 billion people active on social media and using it as the primary source for marketing their brands, now is the time to invest your marketing resources in digital marketing.
Undoubtedly, social media is the perfect approach to market your business. Unfortunately, due to tough competition and several changes in the social media algorithms, it is difficult to put your brand out there on social platforms.
Developing a social media optimization strategy helps your brand achieve community target to drive more sales and business conversions. Social media optimization has several potentials to make your brand a strong competitor in the market, no matter what the niche is.
Wrapping Up
Marketing is a complex area to navigate, but it's business-critical to get right. If you're planning to launch your business on the digital front or integrate your existing company with novel approaches, just follow these trends. Efficiently implement them as part of your business strategy to meet your business needs.
FAQs
What is meant by Digital marketing?
Digital marketing, also called online marketing, is the promotion of brands to connect with potential customers using the internet and other forms of digital communication. This includes not only email, social media, and web-based advertising, but also text and multimedia messages as a marketing channel.
What is the importance of Digital marketing?
Digital marketing lets you communicate directly with the customers who see your content, notably through website comments, messages, reviews, and social media posts. This shows those customers that you care about what they say and think, leading them to feel respected and part of the community you're building.
What is social media optimization in digital marketing?
Social media optimization (SMO) is the use of social media networks to manage and grow an organization's message and online presence. As a digital marketing strategy, social media optimization can be used to increase awareness of new products and services, connect with customers, and mitigate potential damaging news.
Do you sign NDA?
Yes! When you reach us for digital marketing service, we sign a strict NDA and other legal documents for data security.
Do you assure about security & confidentiality of the digital marketing process?
Yes, we sign a strict NDA to protect your business data. Hence, we ensure complete security and privacy of our digital marketing service.