With demands for agility, speed, and disaster-readiness growing, more businesses are considering hybrid cloud adoption. As markets reopen in the West, tech execs are reviving their push to expand cloud-based enterprise capabilities. In 2021, global spending on cloud computing solutions could reach $332 billion, up 23% from 2020, according to a forecast by Gartner.
Hybrid cloud is emerging as a top choice among CIOs and CTOs for IT infrastructure modernization. Using this approach to cloud adoption, you could get more flexibility, lower costs, and bolster security. With enterprise tech solutions becoming more crucial to a company's performance and competitiveness, leaders are eager to invest in infrastructure modernization. And this cloud model is the latest popular tool for accelerating digital transformation.
What is Hybrid Cloud?
Hybrid cloud combines on-premises infrastructure with private and public cloud. With this integration, you get seamless management, orchestration, and portability across all three environments. That means with the hybrid approach, you can create a unified and flexible IT ecosystem. This computing environment enables your organization to run processes smoothly and scale up traditional or cloud-native systems.
When you use more than one public cloud in your hybrid environment, it's called hybrid multi-cloud. Hybrid multi-cloud systems could be both temporary and long-term. For instance, an organization could set up a hybrid multi-cloud environment to facilitate an application migration. However, multi-cloud increasingly represents the future of enterprise digital transformation wherein flexibility and scalability reign supreme.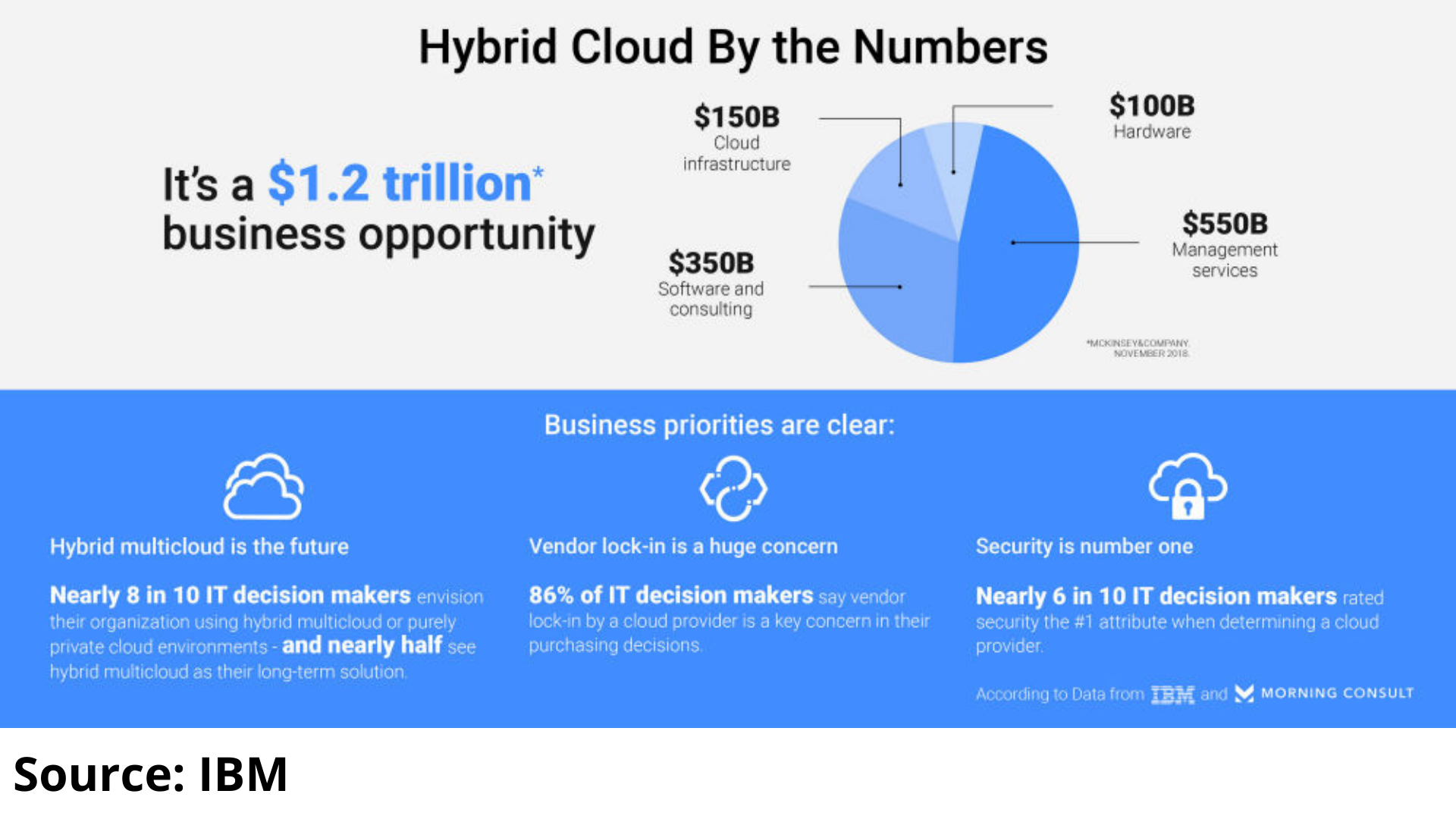 How Hybrid Cloud Transforms IT Infrastructure
The pandemic-spurred wave of digital transformation has made it more crucial for organizations to make their infrastructure cloud-ready. It not just makes your processes disruption-proof but also bolsters competitiveness.
Traditional Hybrid Cloud Architecture
The traditional hybrid cloud architecture focused on transforming selected areas of a company's on-premises system into private cloud infrastructure. It then connects the new infrastructure to public cloud environments such as AWS, Azure, and Google Cloud. Cloud computing solutions experts accomplished this as Red Hat OpenStack or using enterprise-grade middleware to integrate cloud resources.
IT infrastructure that relies on this approach has better security and regulatory compliance. Such tech environments also exhibit superior scalability and resilience and enable organizations to adopt new technology dynamically. Besides, adopting a hybrid cloud also enhances your legacy applications and helps optimize resources.
Modern Hybrid Cloud Architecture
Unlike the traditional approach, modern architecture focuses more on enhancing the portability of applications across all cloud environments. Plus, cutting-edge hybrid cloud solutions automate the deployment of workloads to the most suitable cloud environments. Using this cloud strategy, you could significantly reduce the overall IT spending while boosting agility. Also, it enables you to bolster competitiveness by creating such capabilities as advanced analytics.
An array of trends has accelerated the adoption of the hybrid cloud. A growing number of organizations are building new enterprise software applications as part of their ramped-up digital transformation plan. Many of them are replacing legacy systems with cloud-native solutions. Such a transition allows you to seamless deployment, management, and performance across multiple cloud environments.
Besides, some businesses are moving their applications to the cloud to use micro-services architecture. It breaks software applications into smaller and loosely coupled components focused on specific functionalities. And IT infrastructure experts usually deploy these applications in lightweight executable units called containers.
Business Benefits of Adopting Hybrid Cloud
With technology becoming more critical to a company's day-to-day operations and competitiveness, business leaders need to identify key areas of transformation. IT infrastructure modernization became the most urgent need for medium and big enterprises alike as the pandemic hit. Now tech execs are considering the long-term benefits of hybrid cloud adoption.
Superior Speed
Cloud environments built on a hybrid model enable the IT staff of a company to optimize the network and minimize latency. Thus, it becomes easier for businesses to transfer data and migrate applications quickly. Besides, the hybrid could also take advantage of edge computing capabilities. It allows enterprises to boost speed and locate critical services closer to end-users.
Seamless Scalability
Scalability saw a meteoric rise in popularity last year, as businesses scrambled to meet unprecedented demands. While a private cloud environment creates challenges to building a scalable infrastructure, the hybrid approach makes it smoother. While there are obvious advantages of managing an on-premises system, it also creates roadblocks to agility. Using a hybrid cloud environment, you could continue to store critical data and operations in a private cloud. At the same time, you could also leverage the boundless capabilities of the public cloud.
Lower Costs
On the surface, hybrid cloud implementation might seem costlier. It surely has some additional costs. But, in the long run, it substantially reduces your overall IT costs. Unmatched scalability, seamless access, and robust security make the cloud environment an attractive alternative to a private cloud. Besides, by storing critical data and assets in a private cloud, you could avoid the potential costs of migrations systems from one vendor to another.
Wrapping Up
CIOs and CTOs across industries are now racing to translate their tech-driven strategies to accelerated business performance. And IT infrastructure modernization is critical to achieving this goal. Most tech execs believe that organizations cannot ensure agility simply by digitizing processes. They need evolved cloud computing solutions that bolster competitiveness.
At OrangeMantra, a digital transformation solutions leader, we're working on several cutting-edge cloud projects focused on next-gen enterprise capabilities. Over the past few years, our custom enterprise solutions have helped hundreds of clients take their businesses to new levels.
FAQs
Q. What are the business benefits of hybrid cloud?
Businesses can use these cloud environments to instantly scale capacity up or down per their requirements. It also enables you to avoid the time and cost of purchasing, installing, and maintaining new servers every time you want to expand your IT capabilities.
Q. Is there any security issue with hybrid cloud infrastructure?
Enterprises that use advanced cloud systems can use many of the same security measures that they use in their existing on-premises infrastructure. In fact, some businesses find such cloud solutions more secure than their on-premises data center. These cloud ecosystems are always updated, have automated data redundancy, high availability, and disaster recovery capabilities, among other advantages.
Q. What is managed cloud hosting?
Managed cloud hosting is a process in which organizations share and access cloud-based resources. These include databases and software tools applications spread across a remote network via multiple servers. Managed cloud hosting offers striking benefits like security and consistent availability.