In the current market landscape, gaining cumulative insights into customer behavior has become a successful mantra for businesses. Thus, Business Intelligence (BI) has become increasingly important for businesses of all sizes.
Succinctly, Business Intelligence is an essential tool for any organization seeking to gain an edge on their competition and boost their operations. Through it, companies can glean insight into customer behavior, industry trends, and operational performance.
And allowing them to better serve their customers and better promote their services. We'll take a closer look at how enterprises can win the market by investing in Business intelligence solutions.
What Is Business Intelligence?
By utilizing BI, organizations are able to draw upon insightful data that enables them to make educated decisions. By doing so, they are able to recognize market shifts, identify consumer behavior, and assess their own processes.
Consequently, BI is a great tool to assist companies in reaching their highest potential. As data plays an increasingly prominent role in our current climate, this asset is pivotal for organizations that wish to gain an edge over the competition.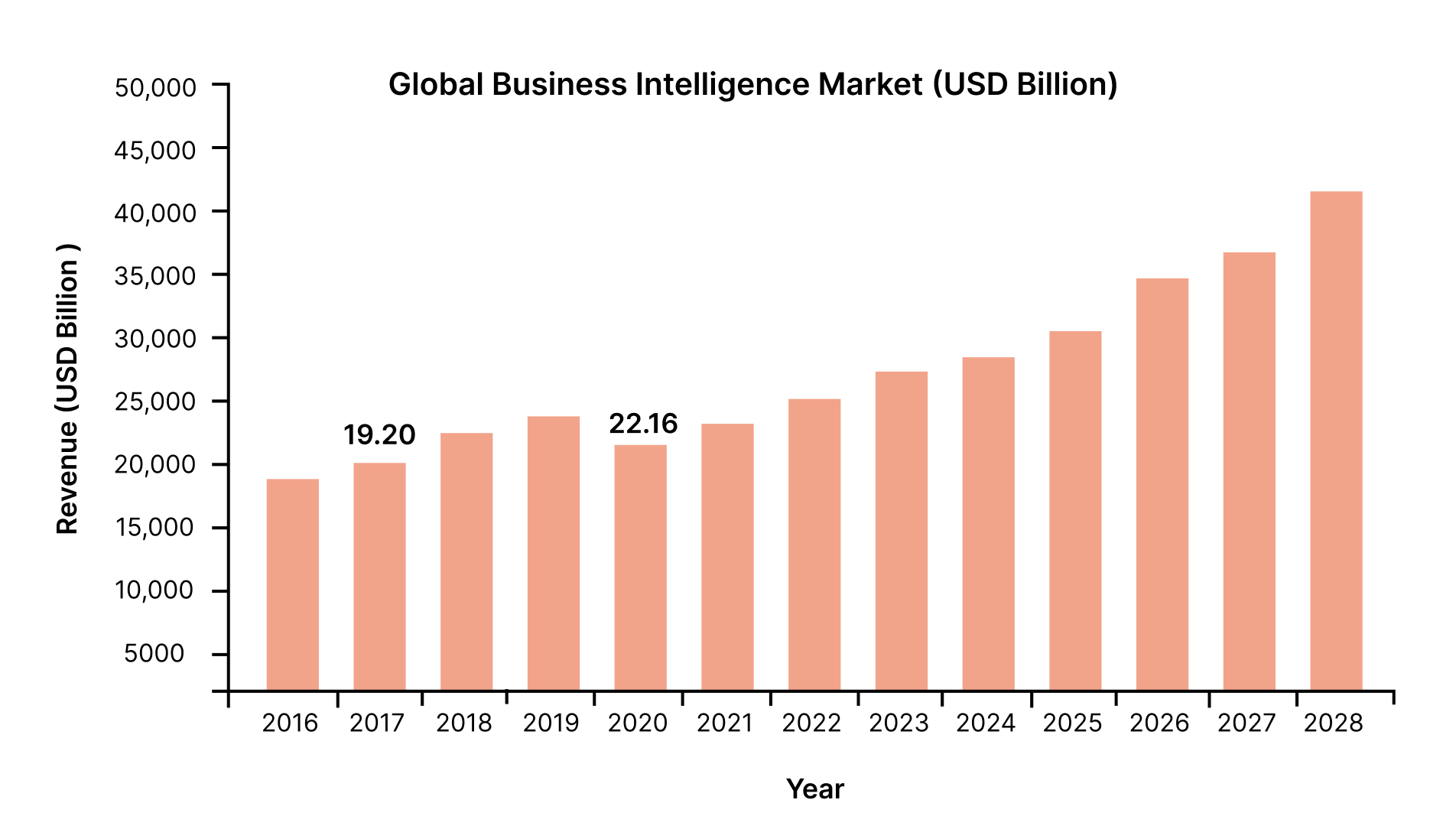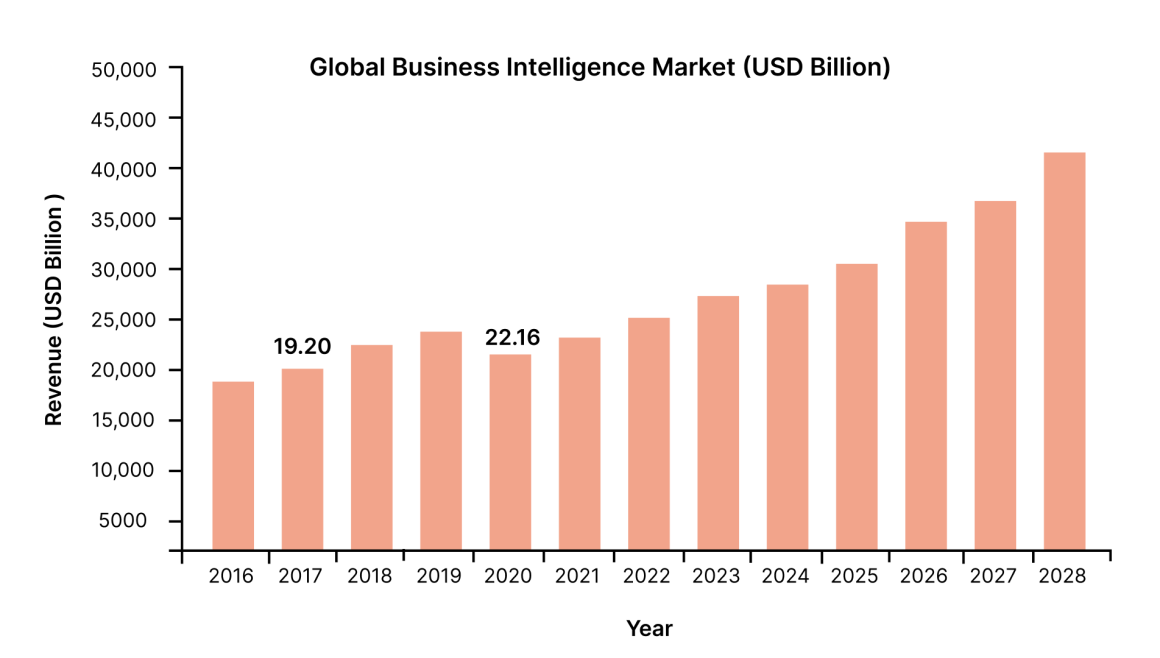 What Are the Processes Involved in Business Intelligence Model?
If you want to effectively use business intelligence solutions, you must understand the basic BI model or process to ensure the best results. Check out the steps involved in the business intelligence model:
1. Data Collection:
Gathering raw data from various sources, including databases, spreadsheets, social media platforms, etc.
Cleansing and validating the data to ensure accuracy.
2. Data Integration:
Merging data from different sources and converting it into a usable format.
Resolving data conflicts and inconsistencies.
3. Data Warehousing:
Storing data in a centralized repository or data warehouse for future analysis.
Ensuring the data is secure and protected.
4. Data Mining:
Analyzing the data to discover patterns, trends, and relationships.
Identifying hidden insights and opportunities.
5. Online Analytical Processing (OLAP):
Applying advanced algorithms to query and analyze data in real time.
Creating a comprehensive view of data in the form of multidimensional data cubes
Meaningful and understandable data representation
Considering user requirements for customized reports development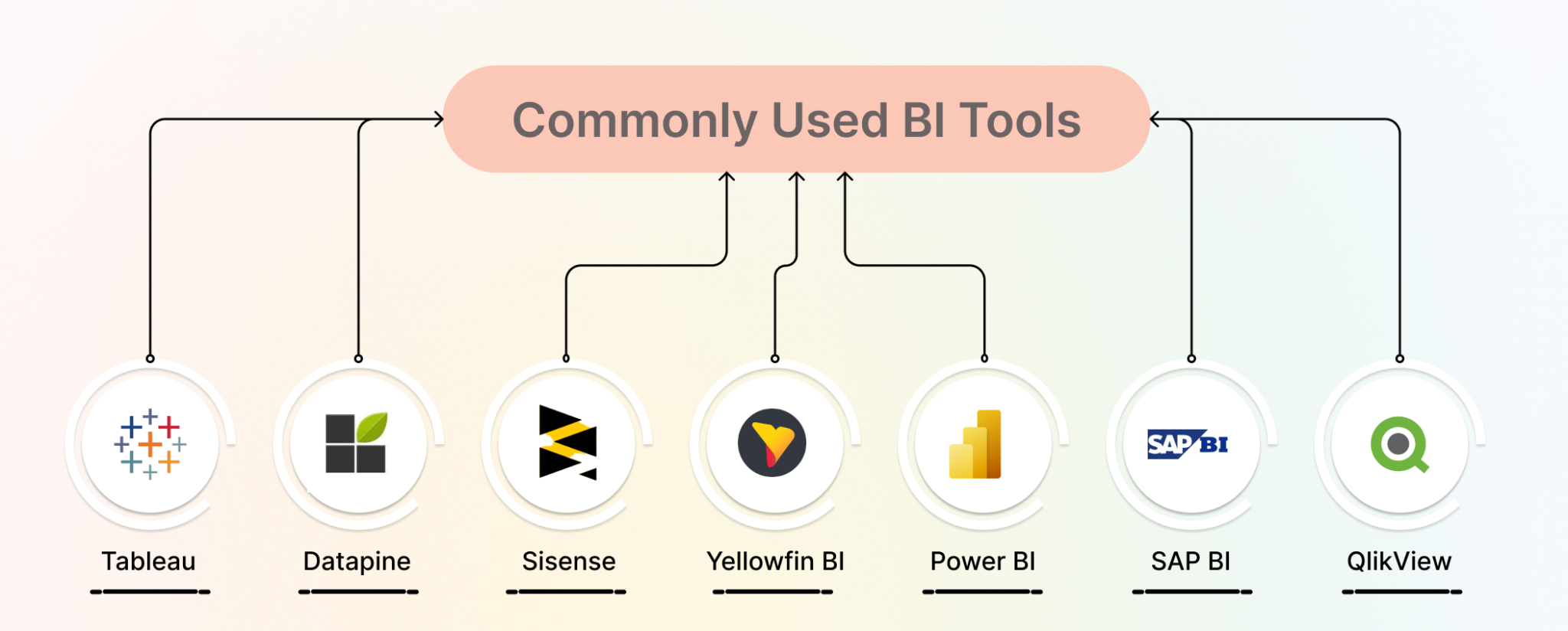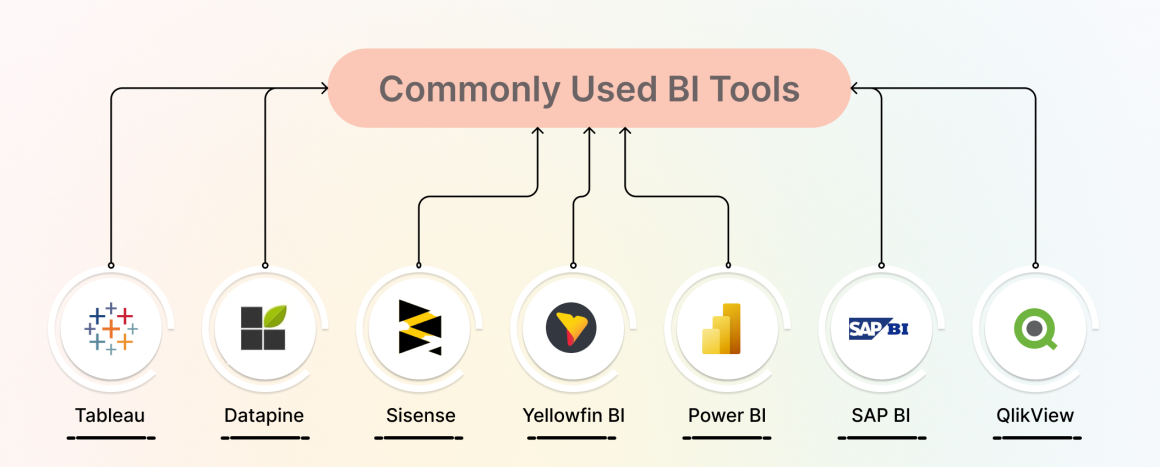 6. Visual Representation & Analysis
Creating visual representations of data through dashboards that can be easily monitored and analyzed.
Allowing for real-time decision-making.
7. Performance & Goal Analysis
Measuring and tracking key performance indicators (KPIs) to ensure business goals are being met.
Enabling continuous improvement and growth.
Following these processes allows you to ensure that business intelligence is being used effectively and efficiently to drive success and stay competitive in the market. Moreover, you can leverage business intelligence services to get more insights into the work & process involved in BI strategy adoption.
How Can Business Intelligence Benefit Your Business?
Indeed, Business Intelligence is an essential tool for businesses to leverage data to make informed decisions. Here are some of the key benefits of Business Intelligence:
1. Better Decision-Making:
Utilizing Business Intelligence, companies are able to gain access to and examine immense quantities of data, leading to enhanced understandings of the current business climate, consumer behavior, and industrial advances. Besides, corporations can formulate smarter decisions using this information, while also being more prepared to manage modifications within the market.
2. Increased Efficiency:
Automation is a cost-effective tool that can quickly and accurately aggregate, evaluate, and present data. Altogether, this technology grants businesses access to vital information in a timely manner, enabling them to reduce operational expenses, maximize efficiency, and concentrate on activities that have a greater return.
3. Improved Performance:
Utilizing Business Intelligence tools allows companies to achieve a comprehensive comprehension of their business operations, thereby pinpointing the necessary improvements to be made to achieve optimal performance. This can consequently lead to greater profits, amplified productivity, and more gratified customers.
4. Competitive Advantage:
The business landscape is fiercely competitive and those who make informed decisions based on data have a clear advantage. Altogether, Business Intelligence bestows organizations the capability to quickly assess data, adapt to fluctuations in the market, and gain the upper hand over their rivals who make assumptions.
5. Better Customer Engagement:
Through an examination of customer data, companies can acquire significant comprehension of the actions, choices, and pleasure levels of customers. Moreover, this data can be employed to customize advertising campaigns, elevate customer support, and foster customer dedication.
In this data-driven market, Business Intelligence is a must-have for businesses who want to gain a competitive edge. Utilizing data to make informed decisions, increase efficiency, and boost customer satisfaction is the way forward to position an organization for success.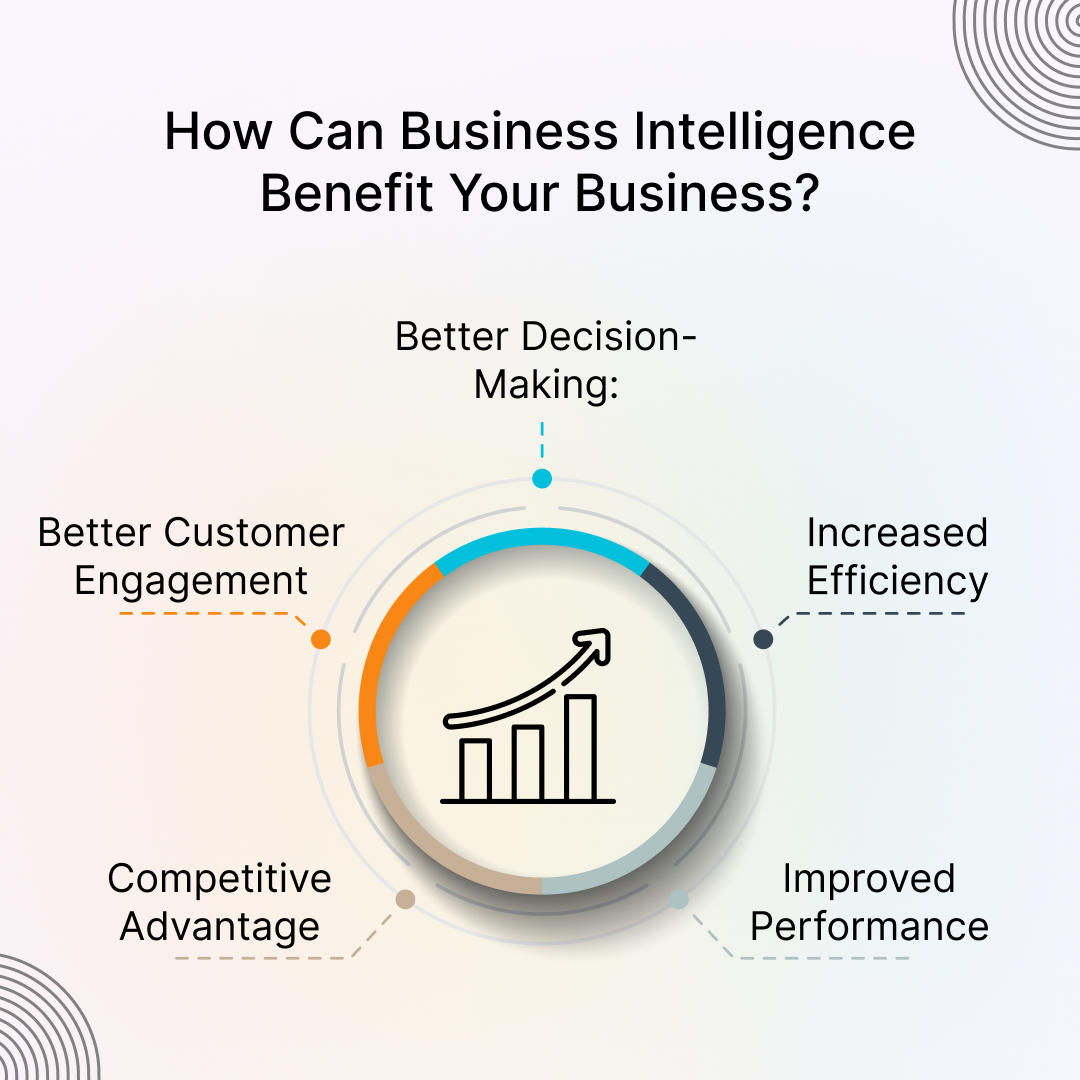 What are Business Intelligence Applications across Enterprises?
Now that we understand what business intelligence is and its benefits, let's take a closer look at some of the applications of business intelligence for enterprises.
1. Data Analysis and Forecasting
Business intelligence provides companies with the opportunity to unlock patterns and trends hidden in data, enabling them to anticipate future outcomes. Altogether, this allows businesses to develop accurate forecasts for sales, manufacturing, and stock levels, enabling informed decisions to be taken to increase their prosperity.
2. Customer Analytics
For businesses to thrive, comprehending customer buying behavior is critical. Moreover, Business intelligence assists them in collecting and examining consumer information, including buying tendencies, inclinations, and commentary.
By gaining insight into the behavior of their patrons, companies can customize their offerings to meet their requirements more effectively, leading to an improvement in customer gratification and loyalty.
3. Financial Analytics
Financial analytics plays an integral role in business intelligence for businesses. Using business intelligence software, firms are able to inspect their financial records, comprising income, outlays, and capital flow, and recognize trends and avenues for advancement.
By tracking financial performance, enterprises can detect cost-reducing strategies, sources of income, and prospective investments.
4. Human Resources Analytics
Business intelligence tools help businesses stay abreast of employee-related information like recruitment trends, resignation levels, and performance metrics. Consequently, understanding the behavior and productivity of staff allows companies to make sound decisions. Thus, resulting in higher efficiency, commitment, and retention.
5. Supply Chain Analytics
Business intelligence serves as a powerful tool to optimize an enterprise's supply chain. Companies can use it to monitor and assess supply chain metrics such as stock availability, supplier reliability, and shipment timelines.
As a result, businesses are able to heighten operational efficacy, curtail expenditure, and accelerate product delivery.
6. Risk Analysis
The capabilities of business intelligence go beyond operations, enabling companies to conduct risk analysis. Companies can monitor data to discover any potential dangers and take steps to minimize the consequences.
Furthermore, this strategy is especially useful in volatile industries that are bound by regulation. As such, organizations can preemptively ward off a financial loss or other adverse outcomes by detecting the risks in advance.
7. Sales & marketing:
Indeed, Business intelligence is revolutionary for sales and marketing. Through data and analytics, organizations can gain insights into their target market, observe the results of their promotional efforts, and review sales performance.
At last, by leveraging these resources, businesses can recognize changes in consumer conduct, tweak marketing plans to match, and optimize their profits.
Succinctly, Business intelligence is an excellent solution for companies looking to increase their competitive advantage. Through real-time analysis and actionable insights, BI can enable firms to make savvy decisions that fuel growth, minimize expenditure, and increase efficiency.
When combined with the appropriate instruments and strategies, any organization can take advantage of business intelligence solutions and attain greater success.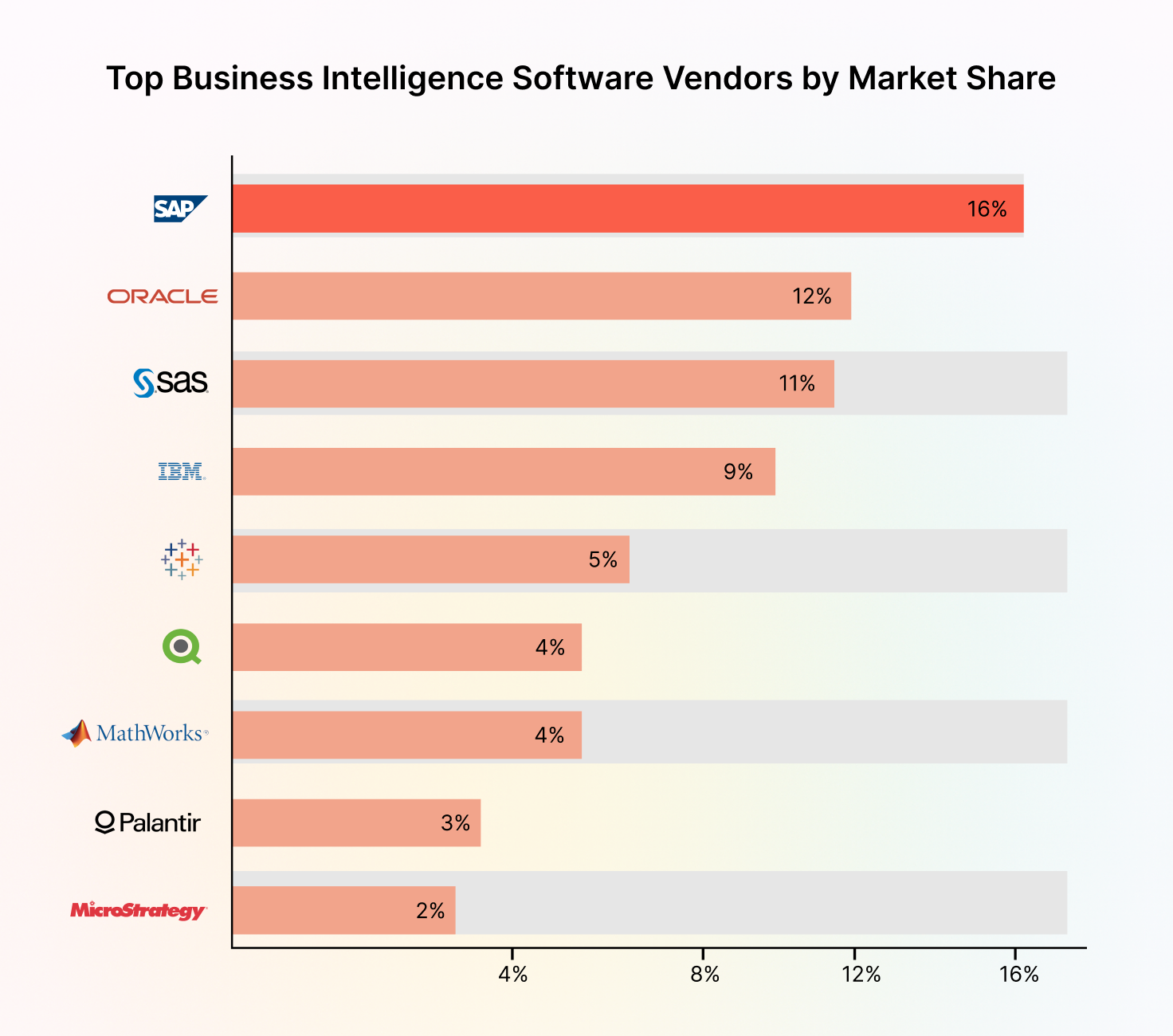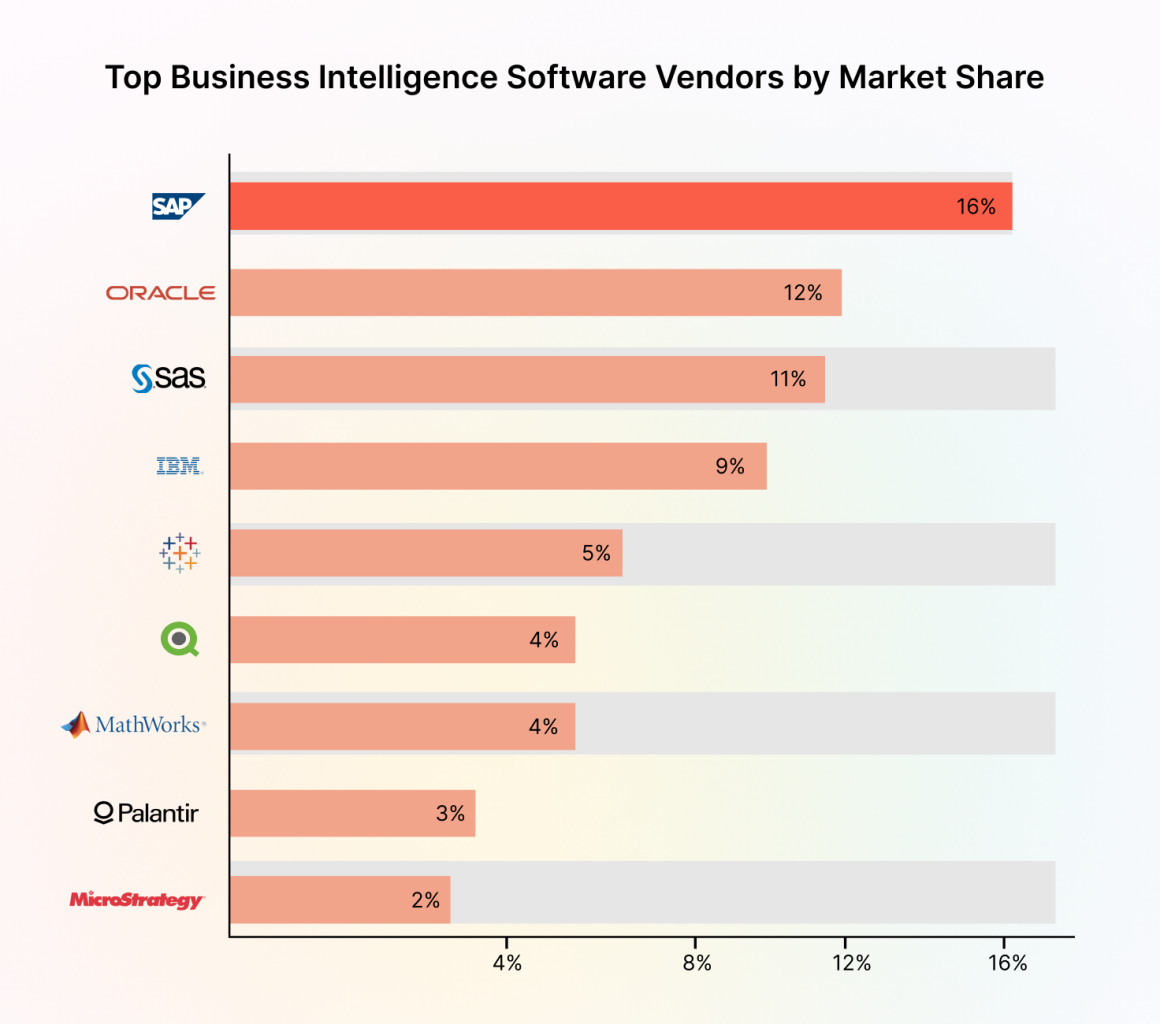 How to Develop a Business Intelligence Strategy?
If you are wondering how can implement Business Intelligence in your enterprise strategy, check out the following aspects.
Identify business goals: To get started, gain an insight into your business' overarching aspirations and objectives. Identify the aspects of the company you would like to focus on.
Determine KPIs: Identify essential performance markers (KPIs) that will facilitate the monitoring of progress toward desired objectives. Examples of these may be expansion of sales, customer loyalty, or minimization of costs.
Choose data sources: Establish the source of your data and learn how to acquire it, whether it be customer data, financial records, or operational figures.
Cleanse and organize data: To guarantee that your information is correct and systematized in a sensible way, you may have to do data purifying and prepping.
Select BI tools: When selecting business intelligence software to enhance your organization's plan, think about programs that offer analytics, documentation, and data visualization.
Establish governance policies: It is imperative to create policies that delineate the procedures of how data is organized, guarded, and shared within the enterprise.
Define roles and responsibilities: To ensure successful data management and analytics, assign appropriate roles and responsibilities. This could include assembling a team of data analysts or appointing a Chief Data Officer.
Plan implementation: Crafting a BI strategy should involve establishing timelines, allocating necessary resources, and devising testing measures. Doing so will ensure the successful implementation of the plan.
Monitor progress: Continuously observe your strides toward your KPIs and make the required alterations to guarantee that you are aiming towards the attainment of your ambitions.
Continuously improve: Leverage the insights gleaned from your data to keep optimizing your strategy and secure improved business results.
Simply, a business intelligence strategy can enhance your enterprise outcomes by reforming operations, marketing, and customer engagement policies. If you want to boost your business revenue, you can opt for BI consulting services to opt for BI strategy.
Wrapping Up
The modern business landscape is a highly competitive arena, so it's important to remain ahead of the game. Business Intelligence is an invaluable tool for gaining insight into how operations are conducted, consumer preferences, and industry trends.
Data mining, Online Analytical Processing, reports, dashboards, and scorecards provide data that can inform strategic decisions with an improved return on investment. Companies of any size can use this knowledge to give themselves a competitive edge.
Don't miss out – seize the opportunity to incorporate Business Intelligence into your plans for a prosperous future.
FAQs:
1- What are the top BI tools to use in 2023?
Top BI solutions to use in 2023 are:
Power BI
Tableau
Domo
Looker
These tools enable you to maintain, manage, and analyze your business data seamlessly.
2- Why should I opt for BI consulting services?
Business intelligence is a relatively new technology trend that needs expert guidance to implement. To get the most out of this strategy and mitigating risk factors, you must opt for business intelligence consulting services from reliable provider.
3- What are top companies to hire for creating business intelligence?
There is no shortfall of BI consulting services, and leading providers are OrangeMantra, Microsoft, and Appinventiv. But, you need to pick wisely to get the most out of your BI implementation efforts.