Google announced one of its most ambitious cloud-computing contracts on April 26, 2021. The tech goliath has signed an agreement with Univision Communications, a Spanish-language broadcaster, as part of its cloud business expansion. With this deal, Google plans to beat rivals like Amazon and Microsoft by bundling its offerings across platforms and services. Univision can now use Google's services across YouTube, advertising, and Search services.
Univision Chief Executive Wade Davis said that Google's multi-platform offering was the deal-clincher, The Wall Street Journal reported. Experts say Google's latest move indicates how the tech superstar is leveraging different areas of its operations to expand its cloud solutions division.
Cloud's Rising Popularity Among CIOs & CTOs
A growing number of corporate tech leaders are reviving their advanced cloud-based capabilities in the pandemic's wake. Cloud spending in 2021 could hit $332 billion, up 23% from last year, according to a forecast by Gartner.
"Beyond reducing costs, AI and automation solutions provide the opportunity to improve outcomes and eliminate waste. I see my cloud budget at least double in 2021," Barry Shurkey, CIO of the global IT consulting firm NTT Data Corp., told WSJ. Cloud-based enterprise software solutions remain the largest cloud market segment, according to the Gartner report.
Google's Roadmap to Beat Cloud Rivals
Last year, Google laid out a set of plans to focus on its cloud division. The company announced the measures following the appointment of former Oracle executive Thomas Kurian. He imposed hard project deadlines and cut jobs at the cloud division, according to WSJ. Among the objectives of these measures are to become one of the top two cloud-computing providers. AWS and Microsoft currently dominate the market. And the goal seems realistic. Google's cloud-computing sales have grown from nearly $4 billion in 2017 to $13 billion in 2020.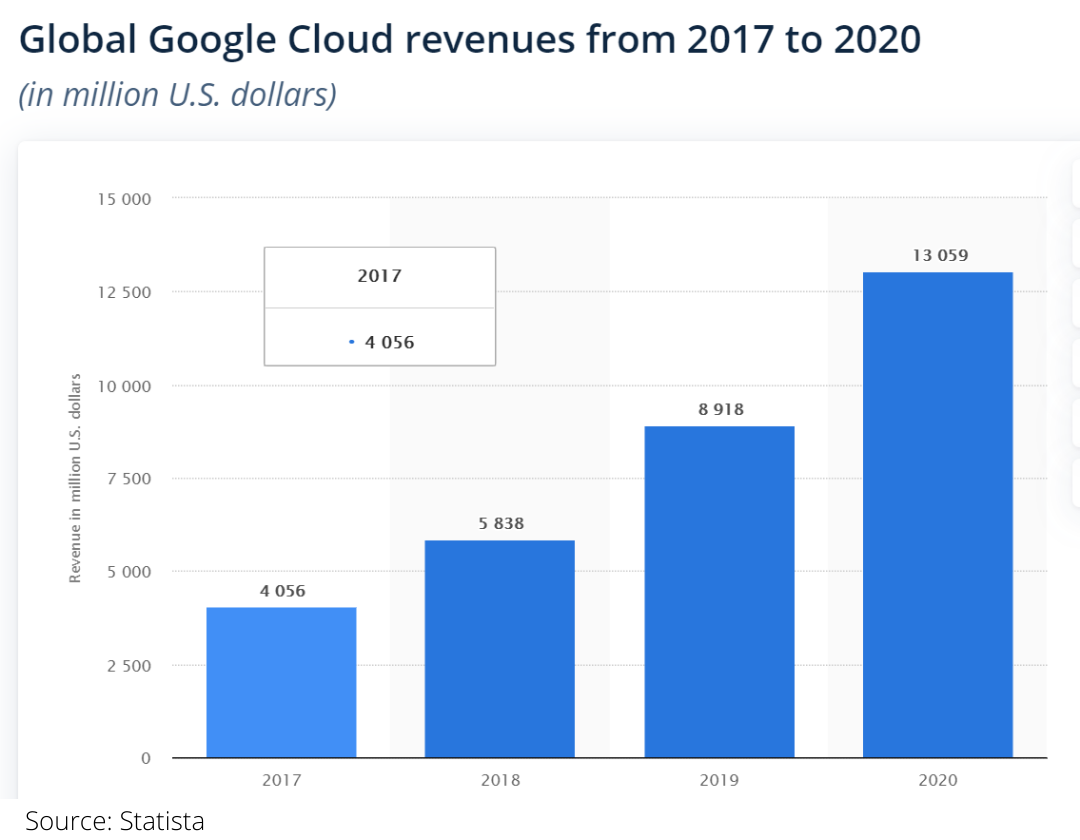 But Google's rivals, too, are recording unprecedented growth in cloud computing. Microsoft recently reported record sales growth in the cloud business. Its cloud growth is driven by a pandemic-spurred demand for cloud solutions across industries. Microsoft's record-setting cloud and gaming growth brought the company near a $2 trillion valuation.
Cloud computing sales represented around 13% of Amazon's total sales in 2019. Last year, AWS generated nearly $35 in sales, according to company figures. With former AWS boss Andy Jassy becoming Amazon's CEO, AWS will likely get even more focus.
Service Bundling as a Growth Strategy
Back to the Univision deal, Google's strategy highlights how tech companies grow by leaning on tried-and-true products to build budding businesses. Service bundles have emerged as a key ingredient of enterprise tech providers to lure customers. For instance, Microsoft also bundles in enterprise cloud deals, often including its Office 365 suite of enterprise software applications. Amazon, too, has linked its cloud offering with other service areas.
Sealing a cloud-computing deal with Univision is not a mere coincidence. Bundling has proved particularly useful in the media industry. Media companies are on the lookout for cutting-edge tech tools like AI and ML to get a competitive advantage amid growing competition. Such tools help them recommend videos and content to viewers.
Redefining Tech Dominance through Bundling
U.S. lawmakers have raised concerns over the bundling approach adopted by tech superpowers. They said Google used its dominance in mapping and other areas to acquire cloud customers. Google Cloud's CEO, Thomas Kurian, said the company was simply responding to customer needs.
"To say, you can work with us on cloud but not the other platforms, doesn't make a lot of sense," Kurian said in an interview about the Univision deal. Google has been eager to turn its cloud business into a more significant contributor to overall sales. The tech giant remains a distant fourth to Amazon, Microsoft, and the Alibaba Group.
Cloud's Optimistic Prospects
Cloud computing is expected to generate $266 billion in revenue in 2021, and balloon by another 30% before 2023, according to Gartner. Cloud computing has emerged as one of the most rapidly growing markets for tech companies.
As companies shift more of their IT budgets to data storage and digital transformation solutions, the cloud will likely remain a crucial area. Google's contract with Univision is in sync with the most important segment of the cloud market. The meteoric rise of streaming services has turned the media industry into the biggest spender of cloud services.
OrangeMantra's Cloud Solutions
At OrangeMantra, we've been building end-to-end cloud-based solutions long before this boom started. Whether it's a cloud-based eCommerce or Salesforce CRM solution or cloud hosting, we fulfill every kind of enterprise requirement. Small businesses and large enterprises alike have significantly expanded their digital capabilities using our custom cloud solutions.