Microsoft has posted record quarterly sales driven by pandemic-induced demands for cloud solutions and videogames, The Wall Street Journal reported on January 26, 2021. A staggering number of businesses are embracing digital transformation as a response to the health crisis. And CIOs and CTOs have already planned big for tech investments in 2021. All these make a good recipe for the growth of tech superpowers like Microsoft.
Companies and government agencies alike have switched to remote work in the pandemic era. That means most businesses needed remote work solutions of one kind or another. And it's been a boon for tech solutions providers like Microsoft. The use of Microsoft's Teams workplace-collaboration tool, for example, has skyrocketed since the onset of COVID-19. The software titan made Teams a priority for the company. Its offerings such as videoconferencing and text chat made it popular among professionals.
Second wave of digital transformation
"What we have witnessed over the past year is the dawn of the second wave of digital transformation sweeping every company and every industry," Microsoft's CEO Satya Nadella said while posting the sales report.
Microsoft announced that the company's second-quarter net income grew over 30% to $15.5 billion. Sales increased 17% to $43.1 billion. These figures exceed Wall Street analysts' net income of $12.6 billion and sales of $40.2 billion, according to FactSet.
Pandemic-driven tech boom
Technology superstars like Microsoft, Apple, and Amazon have been the most prominent corporate winners during the pandemic. These companies have drawn unprecedented investor enthusiasm throughout the pandemic ear. Apple has seen its stock rise about 80% over the past year. Online retail giant Amazon's revenue swelled. Its cloud computing business, which competes with Microsoft's Azure, has grown remarkably over the past year.
Cloud service's rapid growth
Microsoft expects further growth in the current quarter, the company's finance chief told WSJ. Besides cloud computing, videogames are forecast to see roughly 40% growth from the previous year. Microsoft CEO Mr. Nadella emphasized the role of cloud computing in the company's year-over-year sales growth.
Sales for the Azure cloud services have soared over the past few months. With a significant number of organizations worldwide switching to remote work, demands for cloud computing shot up. Azure cloud's sales increased around 50% in the most recent quarter. It has become a bigger source of revenue for Microsoft than its Windows operating system licenses, according to an analyst at Piper Sandler. Microsoft is the world's second-largest cloud computing provider after Amazon.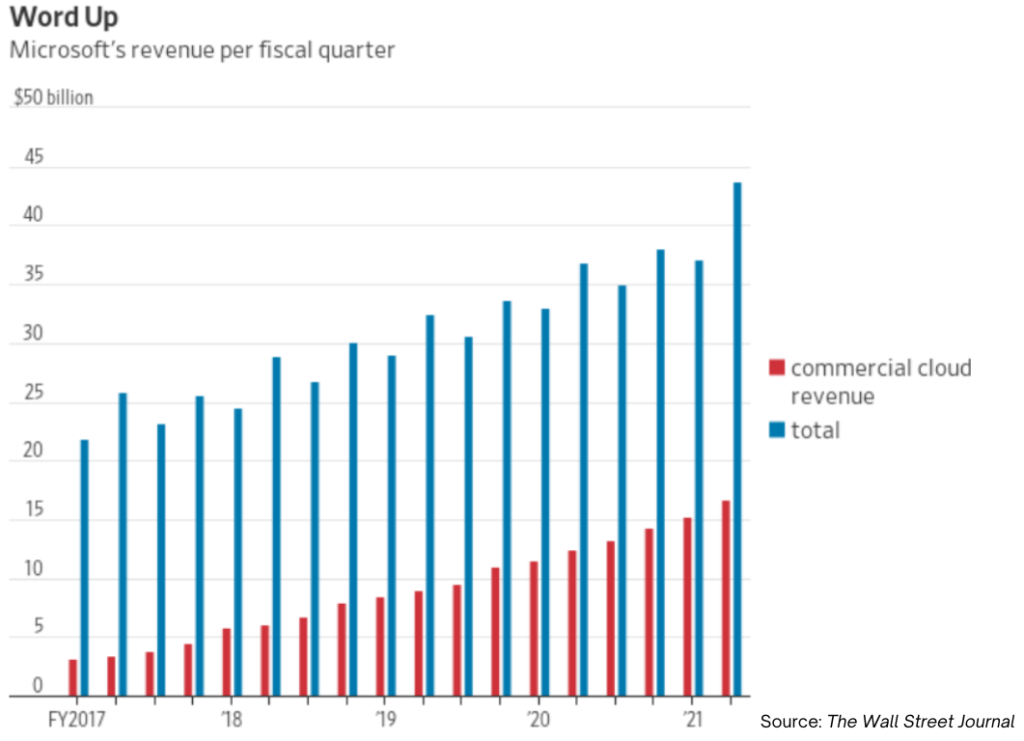 Strong enterprise software demands
The competition in the enterprise software business intensified early in the pandemic. Microsoft felt a competitive pressure and ramped up its enterprise solutions and software suites. Enterprise software companies like Salesforce have become direct competition for Microsoft. Salesforce announced last month that the company acquired the workplace collaboration tool Slack for around 27.7 billion.
Salesforce is one of the leading CRM tools popular among enterprises. An increasing number of businesses are adopting Salesforce solutions for customer relationship and workflow management, among other things. With the Slack acquisition, the company is planning to target Microsoft's Teams more aggressively.
And it's not just cloud computing and enterprise software. Microsoft also saw a record 23% rise in its LinkedIn business. LinkedIn is a business-focused social media network owned by Microsoft. According to analysts, LinkedIn's growth indicates economic recovery. It means companies are hiring again.
A new digital-first era
From cloud migration to remote work and team collaboration, all these trends harbinger a new era in the business world. With the second wave of digital transformation catching up with small and large businesses alike, enterprises must prepare for a digital-first strategy. Here at OrangeMantra, we've aggressively endorsed digital transformation for a long time now.
Since the beginning of the pandemic, we've helped numerous clients respond to disruptions swiftly. Our custom enterprise solutions also enabled clients to implement a comprehensive business continuity plan. Follow our blogs and social media posts to stay informed about all things digital.