The Internet of Things has emerged as a path breaking technology in the last decade and is growing bigger with time. In fact, it is estimated that the number of connected devices will cross the 30 billion mark by 2020. There is hardly an industry that has not tapped its potential today and businesses that fail to do so are at the risk of falling behind. The retail segment has also witnessed the humongous potential of this innovative technology, primarily for transforming the conventional brick-and-mortar stores into convenient customer-centric spaces. Primarily, IoT in retail is all about connectivity and this is how it is changing retail, from conventional to connected.
Retail businesses are embracing IoT applications to strengthen their core and improve their ROI. According to McKinsey, the potential impact of IoT in the retail environments will range between $410 billion and $1.2 trillion per year by 2025, which is a massive figure. Still, when it comes to investing in IoT application development, businesses are often baffled by the decision whether it is worthwhile. The investment can be daunting until you understand the impact it can have on your revenues. Let us explain how Internet of Things can open new opportunities for your retail business and usher the era of connected retail.
Enhanced customer experience
With e-commerce fast becoming a major competitor for brick-and-mortar, nothing matters more than bringing convenience in customer experiences. After all, why would the customer want to go all the way to a retail store if they can buy similar products with just a few clicks. You need to cater them extraordinary shopping experiences that surpass their expectations. Accurate information, good services, quick delivery and simplified checkout are some of the key elements of a positive customer experience.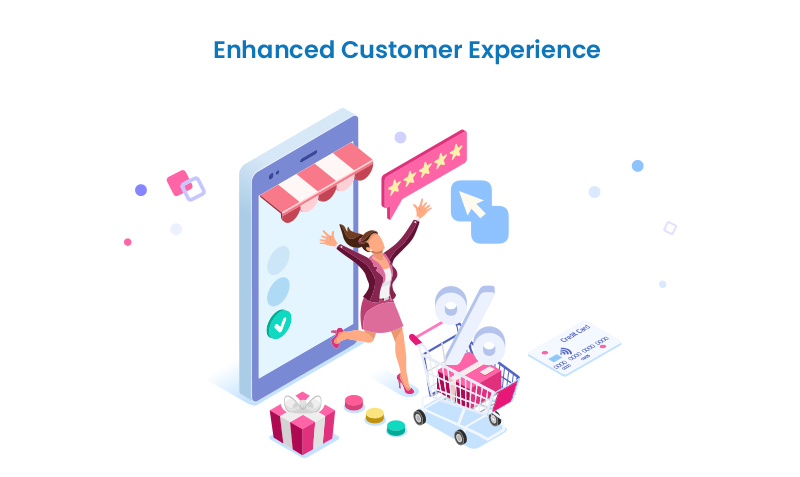 Investing in a feature-rich IoT application is a smart idea because it empowers your business with features such as digital signage, location-based tracking, and self-checkout, all of which are capable of taking customer experience to the next level. Additionally, these applications can be leveraged to create a connected infrastructure with devices and sensors that allow data circulation to the buyers throughout their shopping journeys.
Provides the basis for personalized targeting
Undoubtedly, your customers are the mainstay of your business and you need to go an extra mile with personalization to fetch and retain them. Rewarding the loyalty bonuses and discount coupons is a great idea to have them returning frequently. IoT can be useful in this context as well. You can set up connected sensors around your store and use them to send loyalty discounts to the customers when are located in close vicinity.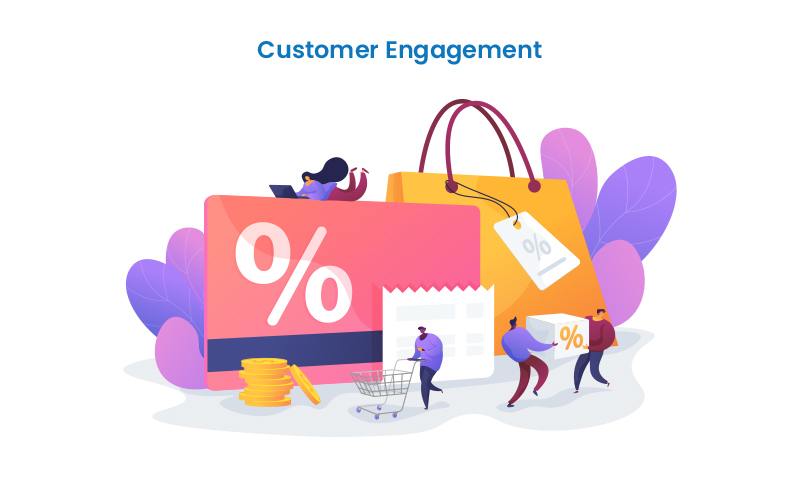 Additionally, IoT coupled with Big Data technology, can be used for tracking the products that the customer has been searching and discovering online. As you know the products they are interested in, you can share a personalized discount when they actually visit your physical store. Since the approach becomes more targeted, you have better chances of capturing the micro-moments and driving instant buying decisions from the customer. So you get the benefits of maximizing your conversion rates and enhancing customer engagement to attract more valuable and loyal long-term customers.
Improves in-store management
The biggest challenge for retail sellers lies in easing the in-store navigation for the shoppers, particularly if the physical store is large in size and the products are massive in numbers. Leveraging the IoT as a part of your digital strategy is a good idea because it offers several connected tools such as beacons, sensors, and cameras to facilitate navigation for the customers. Beyond just improving their experiences, you can also monitor the consumers and understand how their traffic levels behave.
Once you understand their in-store behavior, you can optimize your retail space accordingly. The idea is to make the most popular products easily findable and accessible to the customers by positioning them in aisles that have maximum visibility. Many major players are already using aisle-analytics software with infrared sensors to improve their retail layout. The easier the products are to access, the higher will be the conversion rate for your store.
Enables better inventory traceability
As the supply chains of retail businesses become more complex and longer, there is a need for better management to ensure better functioning. The retailers should be able to track the inventory, right from the time it leaves the manufacturing plant to its delivery in-store. Beyond just tracking the inventory, it is important to find out about the condition of the products, specifically if you are dealing in perishable FMCG items.
Traceability is equally essential, not only for the inventory till it reaches the store but also for the period when the products that lie on-shelf and after they have been sold. On-shelf visibility is critical because it lets you know when you need to replenish the inventory so that there is neither shortage nor overstocking of inventory. With after-sale tracking, it becomes possible to recall the sold products if there are some defects or problems in them. Here, you need to think in terms of enterprise mobile app development with IoT rather than customer-facing apps.
Beyond the benefits: It's not about IoT devices, it's about data!
The potential of IoT in retail lies in the huge volumes of customer-specific data that it is capable of generating about each customer. Since the data is unstructured, it requires big databases along with powerful analytics to support them. The challenge that retailers struggle with us to get to a grip with both data velocity and analytics as well as combining them with their traditional data stores.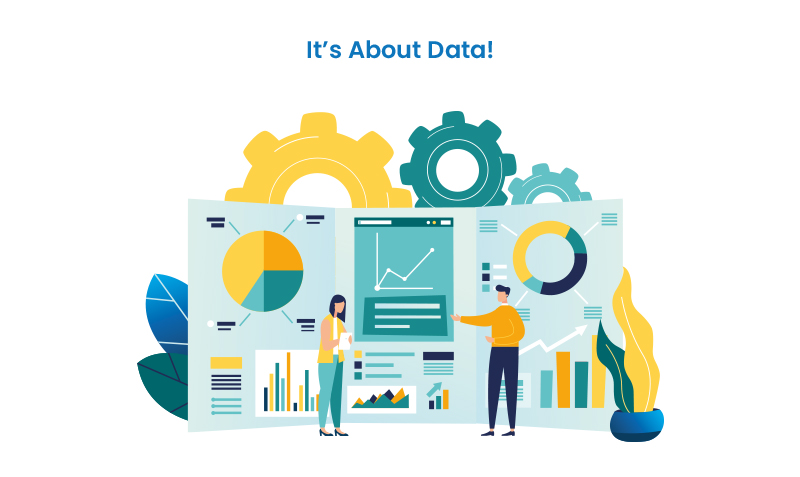 In simpler words, gathering the in-store customer data and filing it away for subsequent use will not do you any good. You need to analyze that data with speed and use it to provide personalized experiences to the customers while they are still in-store. So it would be apt to say that IoT as a part of digital transformation is not just about leveraging connected devices but more about using the data they collect.
Retail IoT is the Internet of Everything
Internet of Things in retail is a wide concept, not confined to sensors and data. Rather, it is the Internet of Everything, involving people and process as well. The idea, therefore, is to build a cohesive strategy that covers everything. Here are the key elements of "everything" in IoT retail:
Things: Obviously, the IoT setup will include connected things. From the simplest RFID tags to complex cameras, there are many "things" in the retail ecosystem.
Data: Data refers to the huge volumes of information generated by the connected devices that should be processed quickly so that you can reach your customers contextually.
People: People in the connected ecosystem include your customers, their friends and social networking contacts, and your employees.
Processes: Primarily, these are the customer-facing processes, such as customer lifecycle maintenance and lead generation.
Conclusion
When it comes to implementing IoT in your business, there are some key considerations that you need to take into account:
Make customer experience your number one priority
Personalize your approach across all the touchpoints
Reinvent the sales and customer support process
Prioritize data privacy and protect customer information
Focus on instant and omnichannel customer service
Since the mainstay of the IoT strategy is the customer, you need to implement the application with the help of a seasoned provider who knows how to create superlative customer experiences. OrangeMantra is a leading mobile app development company that has expertise in the IoT technology as well. Besides retail, we also specialize in creating IoT solutions that empower diverse industry verticals. If you are looking for a partner that can empower your retail business with an IoT app, we are a good choice.